Postprandial lipemia: factoring in lipemic response for ranking foods for their healthiness
Lipids in Health and Disease
2017
16:178
Received: 29 May 2017
Accepted: 11 September 2017
Published: 18 September 2017
Abstract
One of the limitations for ranking foods and meals for healthiness on the basis of the glycaemic index (GI) is that the GI is subject to manipulation by addition of fat. Postprandial lipemia, defined as a rise in circulating triglyceride containing lipoproteins following consumption of a meal, has been recognised as a risk factor for the development of cardiovascular disease and other chronic diseases. Many non-modifiable factors (pathological conditions, genetic background, age, sex and menopausal status) and life-style factors (physical activity, smoking, alcohol and medication use, dietary choices) may modulate postprandial lipemia. The structure and the composition of a food or a meal consumed also plays an important role in the rate of postprandial appearance and clearance of triglycerides in the blood. However, a major difficulty in grading foods, meals and diets according to their potential to elevate postprandial triglyceride levels has been the lack of a standardised marker that takes into consideration both the general characteristics of the food and the food's fat composition and quantity. The release rate of lipids from the food matrix during digestion also has an important role in determining the postprandial lipemic effects of a food product. This article reviews the factors that have been shown to influence postprandial lipemia with a view to develop a novel index for ranking foods according to their healthiness. This index should take into consideration not only the glycaemic but also lipemic responses.
Keywords
Postprandial lipemia
Lipemic load
Triglyceridemia
Background
Fasting and postprandial blood triglyceride levels are risk factors for cardiovascular and other chronic diseases [1]. Although fasting blood lipid levels indicate cumulative effects of composite diets and metabolic activity, they do not reflect accurately the impact of individual foods or meals consumed during the day. Typically, humans are in an absorptive state (non-fasting) for over 18 h in a day and therefore, postprandial triglyceride levels are now recognised as an important risk factor for cardiovascular disease [2]. Despite providing key substrates in metabolic pathways and being source of energy, fatty acids can be detrimental if in excess in the circulation. Excess fat consumption can induce a lipotoxic state, involving activation of various inflammatory pathways [3]. As early as one hour after consumption of a high fat meal, nuclear factor-kB, a key regulator of fat-induced inflammation [4, 5], is activated [6, 7], likely due to the activation of cell surface receptors by free fatty acids [8–10]. This leads to increased expression of pro-inflammatory mediators, including interleukin-6 (IL-6), tumour necrosis α (TNF-α) and interleukin-8 (IL-8) [10, 11]. In addition, oxidative stress may be triggered by an increase in the generation of reactive oxygen species by mononuclear cells and polymorphonuclear leukocytes [6, 7, 12] and an increase in other markers of oxidative stress [12, 13], one to three hours postprandially.
Indeed, the oxidative degradation of fatty acids and the transient production of pro-inflammatory mediators, as nutrients are metabolised, are appropriate homeostatic responses. However, these responses become undesirable when the host is unable to efficiently clear nutrients that are consumed in excess. The response to metabolic surplus can include various adverse outcomes, such as vascular events [
14
,
15
], insulin resistance [
16
] or inflammatory cell recruitment [
17
]. It has also been demonstrated that post-meal hypertriglyceridemia has adverse effects on endothelial function [
17
,
18
]. The exchange of core lipids between postprandial lipoproteins and low density lipoprotein and high density lipoprotein is increased during prolonged lipemia, resulting in the formation of highly atherogenic (small and dense) low density lipoprotein particles and reduced high density lipoprotein levels [
19
]. Therefore, a prolonged and high postprandial lipemia has the potential to increase the risk of developing cardiovascular disease [
2
,
15
,
20
] and other chronic diseases, especially in groups already at risk [
21
]. Figure
1
summarises the pathophysiological effects of postprandial hypertriglyceridemia.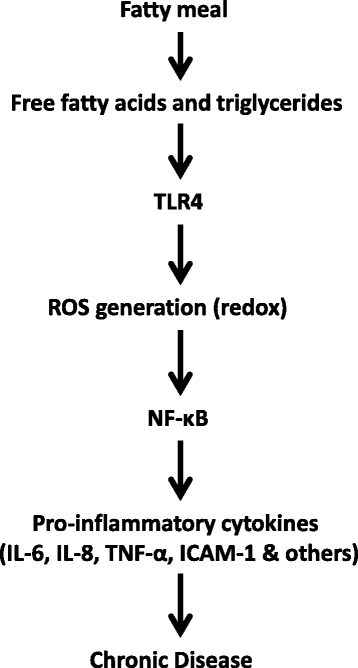 After digestion, lipids present in food products are absorbed in the small intestine, packed into chylomicrons and transferred into the blood via the lymphatic system. The appearance of chylomicrons in the circulation is followed by an increase in liver-derived very low density lipoproteins (VLDL) due to competition for lipolysis between VLDL and chylomicrons [22, 23]. Thus, postprandial lipemia is a result of an increase in both intestine-derived chylomicrons and liver-derived VLDL. As chylomicrons are more readily targeted by lipoprotein lipase and the liver receptors, VLDL tend to increase in a greater extent than chylomicrons postprandially [23].
The rate at which lipids from individual foods and meals are digested, absorbed, incorporated into the blood stream and cleared depends on various non-modifiable factors (pathological conditions, genetic background, age, sex and menopausal status) as well as life style choices (physical activity, smoking, alcohol and medication use, dietary choices) [24]. The structure and the composition of the meal or food consumed are also an important factor in the control of postprandial lipemia, modulating the duration and the intensity of the postprandial response [25–27]. This article discusses the effects of those factors on the rate of appearance and clearance of lipids in the blood stream. We also make a case for blending the postprandial lipemic responses with the glycaemic response for the development of a novel tool for determining the healthiness of individual foods and mixed meals.
Factors modulating postprandial lipemia
Structure and composition of the meal or food consumed
The amount of dietary fat, as well as its fatty acid composition, has been demonstrated to influence postprandial triglyceride metabolism. Food structure, macronutrient and micronutrient composition have the potential to delay or expedite digestion and absorption of lipids; and therefore may also have an effect on the duration and intensity of the postprandial lipemia.
Discrepancies among previous postprandial studies
Although a plethora of studies is available on fat challenges and the postprandial effects of different meals, the lack of standardization among those studies prevents an accurate comparison and estimation of the effects of single foods and specific fatty acids on postprandial lipemia and generates discrepancies. Studies on fat or meal challenges differ in a number of parameters. They have assessed meals containing a wide range of fat contents, from 10 g to over a 100 g of fat in a single feed. They have analysed triglycerides or retinyl-palmitate in a variety of sample types, including whole blood, plasma, serum, chylomicrons and remnant lipoprotein, over a wide time range from 2 to up to 12 h postprandially. Delivery methods and target population are also variable. Often an unequal number of males and females, as well as subjects within a broad age range, have been recruited. In addition, in most of these studies, subjects with a pathological condition have been recruited instead of healthy normal weight subjects, incorporating extra variables to an already complex equation. Therefore, there is a need for the standardization of postprandial studies to improve the comparison of the effects of different food products on postprandial lipemia.
Future directions
Subjects with metabolic syndrome, obesity and hypertension, among other disorders, may have normal fasting blood lipids, despite presenting with elevated postprandial lipemia. Considering that individuals are in the postprandial state for most of the day, a more effective measure of abnormal lipemia needs to be developed. Furthermore, a subject, independent of his/her health status, should be able to choose meals that promote lower lipemic responses postprandially, in order to reduce postprandial inflammation and the risk of developing or aggravating chronic disease.
Currently, the glycaemic index and the glycaemic load are used to grade foods and meals as a determinant of their healthiness. However, the glycaemic index can be altered by addition of fat [141]. As a result a fat enriched food produces a low glycaemic index, but may not necessarily be overall healthy, as it can increase postprandial lipemia and consequently increase inflammatory response [142, 143].
Ooi and colleagues [144] have suggested the development of an index to measure the effect of different meals on postprandial lipemia. They proposed this index should be measured as the triglyceride's iAUC in response to a test meal divided by the triglyceride's iAUC in response to the standard meal multiplied by 100. Unlike the glycaemic index, the lipemic index would potentially be greater than 100% for some food products. However, it can be argued that considering only the triglyceride's iAUC may be a very simplistic way of measuring the effect of different food products on postprandial lipemia. As discussed in this article, despite not resulting in different postprandial triglyceride iAUC, different foods may modulate triglyceride peak time and magnitude differently; a fact that is masked by adopting a single measure based on the iAUC. The term lipemic index may also be misleading as it is used in the clinical setting to define the quality of the plasma or serum sample for analysis, being used as a synonym of turbidity [145].
We propose the development of a new tool to aid the selection of food products based on a smaller and steady postprandial rise not only in blood glucose but also in blood triglyceride levels. Foods with low glycaemic and lipemic responses have the potential to improve satiety and consequently reduce caloric intake for the prevention of obesity and related cardio-metabolic diseases. Developing a ranking criterion based on both glucose and lipid responses may help consumers make healthier choices and avoid health complications.
Conclusions
Postprandial lipemia, characterized by a rise in circulating triglyceride containing lipoproteins after the consumption of a meal, is a dynamic, non-steady state condition to which humans are exposed for most of their day. Evidence accumulated over the years demonstrates that postprandial lipemia may modulate endothelial function and homeostatic variables, including blood coagulation factors, platelet function and pro-inflammatory cytokine expression. Therefore, suggesting that postprandial lipemia should be included in the assessment and treatment of cardiovascular risk factors.
As discussed in this review, food structure and composition are important determinants of postprandial lipemia and merit further examination to delineate the role of different natural and processed foods to human health and disease. Foods and meals that improve postprandial triglyceride concentrations are likely to play a vital role in healthy human diets, warranting the need for the development of a standard methodology to determine the extent and duration of postprandial lipemia. In addition, the glucose metabolism is of equal importance for the healthiness of the foods we consume and should be considered in conjunction with the lipid metabolism in the development of a novel index to determine the healthiness of the foods.
Abbreviations
AUC:

Area under the curve
HMG-CoA:

Hydroxyl-methyl-glutayl coenzyme A
IAUC:

Incremental area under the curve
ICAM-1:

Intercellular Adhesion Molecule 1
IL-8:

Interleukin-8
LDL:

Low density lipoprotein
LPL:

Lipoprotein lipase
MUFA:

Monounsaturated fatty acids
n-6PUFA:

n-6 polyunsaturated fatty acids
NEFA:

Non-esterified fatty acids
NF-κB:

Nuclear factor κB
ROS:

Reactive oxygen species
SFA:

Saturated fatty acid
SNPs:

Single-nucleotide polymorphisms
TLR4:

Toll like receptor 4
TNF-α:

Tumour necrosis α
VLDL:

Very low density lipoproteins
Declarations
Acknowledgments
Not applicable
Funding
This paper was supported by the Centres of Research Excellence (CoRE) Fund from the New Zealand Tertiary Education Commission.
Availability of data and materials
Not applicable
Authors' contributions
All authors contributed to the writing and revision of the manuscript, and approved its final version.
Ethics approval and consent to participate
Not applicable
Consent for publication
Not applicable
Competing interests
The authors declare that they have no competing interests.
Publisher's Note
Springer Nature remains neutral with regard to jurisdictional claims in published maps and institutional affiliations.
Open AccessThis article is distributed under the terms of the Creative Commons Attribution 4.0 International License (http://creativecommons.org/licenses/by/4.0/), which permits unrestricted use, distribution, and reproduction in any medium, provided you give appropriate credit to the original author(s) and the source, provide a link to the Creative Commons license, and indicate if changes were made. The Creative Commons Public Domain Dedication waiver (http://creativecommons.org/publicdomain/zero/1.0/) applies to the data made available in this article, unless otherwise stated.
Authors' Affiliations
(1)
Nutraceuticals Research Program, School of Biomedical Sciences & Pharmacy, University of Newcastle, Callaghan, Australia
(2)
Riddet Institute, Massey University, Palmerston North, New Zealand
(3)
Centre for Asthma and Respiratory Disease, School of Biomedical Sciences & Pharmacy, University of Newcastle, New Lambton, Australia
(4)
Priority Research Centre in Physical Activity & Nutrition, University of Newcastle, University of Newcastle, Callaghan, Australia