Isomer-specific effects of CLA on gene expression in human adipose tissue depending on PPARγ2 P12A polymorphism: a double blind, randomized, controlled cross-over study
Lipids in Health and Disease
2009
8:35
Received: 16 June 2009
Accepted: 18 August 2009
Published: 18 August 2009
Abstract
Background
Peroxisome proliferator-activated receptor (PPAR)γ is a key regulator in adipose tissue. The rare variant Pro12Ala of PPARγ2 is associated with a decreased risk of insulin resistance. Being dietary PPARγ ligands, conjugated linoleic acids (CLAs) received considerable attention because of their effects on body composition, cancer, atherosclerosis, diabetes, obesity and inflammation, although some effects were only demonstrated in animal trials and the results in human studies were not always consistent. In the present study effects of CLA supplementation on genome wide gene expression in adipose tissue biopsies from 11 Ala12Ala and 23 Pro12Pro men were investigated. Subjects underwent four intervention periods (4 wk) in a randomized double blind cross-over design receiving 4.25 g/d of either cis-9, trans-11 CLA, trans-10,cis-12 CLA, 1:1 mixture of both isomers or a reference linoleic acid oil preparation. After each intervention biopsies were taken, whole genome expression microarrays were applied, and genes of interest were verified by realtime PCR.
Results
The following genes of lipid metabolism were regulated by CLA: LDLR, FASN, SCD, FADS1 and UCP2 were induced, while ABCA1, CD36 and CA3 were repressed. Transcription factors PPARγ, NFAT5, CREB5 and EBF1, the adipokine NAMPT, members of the insulin signaling cascade SORBS1 and IGF1 and IL6ST were repressed, while the adipokine THBS1 and GLUT4 involved in insulin signaling were induced. Compared to trans-10,cis-12 CLA and the CLA mixture the cis-9, trans-11 CLA isomer exerted weaker effects. Only CD36 (-1.2 fold) and THBS1 (1.5 fold) were regulated. The CLA effect on expression of PPARγ and leptin genes depends on the PPARγ2 genotype.
Conclusion
The data suggest that the isomer specific influence of CLA on glucose and lipid metabolism is genotype dependent and at least in part mediated by PPARγ.
Keywords
Human Adipose Tissue
Pro12Ala Polymorphism
Adipose Tissue Biopsy
Hydrate Carbon Dioxide
Rare Allele Carrier
Introduction
The term CLA describes a group of 18-carbon fatty acids with 2 conjugated double bonds. They are formed as a result of enzymatic hydrogenation of linoleic acid in ruminants and found in lipids of tissue and milk. Of the various isomers, cis-9, trans-11 (c9t11) CLA is most predominant in food. In CLA preparations c9t11 CLA and trans-10, cis-12 (t10c12) CLA are the prevailing isomers. CLAs received considerable attention because of their effect on body weight, muscle mass and glucose homeostasis [1, 2] in certain animal models. In humans evidence is less clear. CLA supplementation was shown to have significant favorable effects on body weight and fat mass [3, 4] while results on other risk markers are still conflicting. The findings showed great variability, which may be partly explained by the length of the studies and the dosage, but also due to differences in the isomer mixtures used for supplementation. Additionally, the genetic background of individuals may have contributed to the variability of the results.
The PPARγ2 gene is a member of the nuclear receptor super family and is highly expressed in adipose tissue [5]. Indeed, the receptor plays a critical role in adipocyte differentiation and regulates insulin sensitivity by transcriptionally activating adipocyte-specific genes involved in insulin signaling, glucose uptake, fatty acid uptake and lipid-storage. A single nucleotide polymorphism (SNP) in the PPARγ2 results in a proline to alanine substitution and has been associated with lower risk for type 2 diabetes, higher insulin sensitivity, but paradoxically weight gain [6]. The polymorphism of PPARγ2 was shown to affect metabolic responses to dietary fat [7, 8]. CLAs are natural PPAR-ligands [9]. Only one report is available which provides data on the CLA influence on gene expression in human adipose tissue [10].
To our knowledge this is the first human study using a microarray based genome wide gene expression screening to evaluate isomer specific CLA effects in human adipose tissue. In this study we further investigated whether CLA effects depend on the Pro12Ala polymorphism.
Methods
Subjects
38 subjects (45-68 years old) were recruited from a population based cohort (n = 1558) in Kiel (MICK, Metabolic Intervention Cohort Kiel) which has been previously described [11]. 15 male PPARγ2 Ala12Ala homozygous and 23 BMI-matched homozygous control subjects (PPARγ2 Pro12Pro) were included. Exclusion criteria were: metabolic or gastrointestinal diseases, drug therapy affecting gastrointestinal metabolism, and previously diagnosed diabetes according to WHO criteria (WHO, 2006). The intervention study was mono-centered and followed a randomized, placebo-controlled, double blind, cross over design. After written consent, 38 men randomly underwent four intervention periods, consuming soft gel capsules with either c9t11 CLA, t10c12 CLA, a commercially available mixture of both CLA isomers or placebo (linoleic acid from safflower oil) as free fatty acids; resulting in a total of 4.25 g/d fatty acids, containing either 3.40 g of the individual isomers or CLA mixture active substance or 3.23 g linoleic acid. Study participants completed four intervention periods lasting 28 days each; separated by wash-out phases lasting 42 days. The study protocol was approved by the local ethics committee of the Christian-Albrechts-Universität (Kiel, Germany).
Sampling
After each intervention subcutaneous abdominal adipose tissue biopsies were performed under local anaesthesia by aspiration from the peri-umbilical area, through a Menghini-needle. Subcutaneous adipose tissue was immediately flash-frozen in liquid nitrogen for later analysis. BMI (body mass index), waist and hip circumference, blood pressure, plasma glucose and insulin, triacylglycerols, LDL-cholesterol HDL-cholesterol and HOMA-IR (homeostasis model assessment-insulin resistance) calculated as [(fasting insulin μU/ml × fasting glucose mg/dl)/405] were assessed after each intervention. Multiple ANOVA was used to compare effects of the 4 dietary interventions.
RNA
RNA was extracted using Ambion kit according to the manufacturer's protocol for fatty tissue. RNA quality was verified by spectrophotometry (260:280 ratio) and by Bio analyzer (Agilent).
Microarray
Global gene expression was analyzed with microarray technology using the Affymetrix Human Genome U133 2.0 Plus according to the manufacturer's protocol and the Gene Chip Set, covering more than 54 000 gene transcripts, corresponding to almost 22 000 genes. Expression values were calculated using the robust multi-array average algorithm [12] and were statistically analyzed for differential gene expression adjusting all P-values for false discovery-rate correction. The positive and negative controls met the expected values (data not shown). Wilcoxon test followed by Benjamini Hochberg Correction as post hoc test for multiple testing was used to analyse significant differences compared to intervention with linoleic acid, and Westfall and Young permutation was used for cut off calculation [13]. Pathway members were analysed by Ingenuity Pathway Analysis® (Ingenuity Systems, http://www.ingenuity.com) software.
RT-PCR
Purified RNA was reverse transcribed using Applied Biosystems High Capacity cDNA Reverse Transcription Kit according to manufacturer's recommendations. Realtime PCR was performed using an ABI Prism 7900 HT Sequence Detection System with TaqMan® Low-Density Arrays, which is a 384-well micro-fluidic card pre-loaded with optimised probes and primers for selected genes. Relative quantification analysis was performed with ABI Prism SDS 2.1.1 software. The endogenous control TAF10 (TAF10 RNA polymerase II) was used to normalize the differences in amounts of the cDNAs added. Normalized delta (Δ) cycle threshold (CT) values were then subjected to evaluation of statistical significance (p < 0.05) of differential expression compared to control using the Wilcoxon test. Fold changes were calculated using the ΔΔCT method, whereby linoleic acid intervention values were used as reference (control).
Results
37 out of 38 men completed the study. Data were based on 34 subjects; one dropped out because he fell ill and three subjects with PPARγ2 Pro12Pro SNP were excluded because they showed elevated fasting glucose levels according to the WHO criteria during most or all interventions. No significant changes in anthropometric characteristics and fasting values were detected after any intervention (Table
1
).
Table 1
Anthropometric characteristics, fasting values of all subjects (n = 34) at the end of each intervention period.
| Preparation | linoleic acid | CLA MIX | cis-9,trans-11 CLA | trans-10,cis-12 CLA | P |
| --- | --- | --- | --- | --- | --- |
| Weight (kg) | 84.2 (± 2.0) | 84.2 (± 2.0) | 84.1 (± 2.0) | 84.0 (± 2.0) | 0.851 |
| BMI (kg/m2) | 26.1 (± 0.5) | 26.1 (± 0.4) | 26.0 (± 0.4) | 26.0 (± 0.5) | 0.900 |
| Waist (cm) | 102.1 (± 1.5)a | 102.1 (± 1.6)a | 102.3 (± 1.5) a | 101.2 (± 1.5) b | 0.072 |
| Hip (cm) | 104.8 (± 1.0) | 104.8 (± 1.0) | 104.8 (± 1.0) | 104.0 (± 1.0) | 0.824 |
| Waist/hip ratio | 0.97 (± 0.01) | 0.97 (± 0.01) | 0.98 (± 0.01) | 0.97 (± 0.01) | 0.645 |
| Plasma glucose (mg/dl) | 96.5 (± 1.4) | 98.2 (± 1.5) | 97.5 (± 1.5) | 96.5 (± 1.4) | 0.487 |
| HOMA-IR | 3.0(± 0.3) | 3.2(± 0.2) | 3.1(± 0.3) | 2.9(± 0.2) | 0.693 |
| Triacylglycerols (mg/dl) | 127.0 (± 10.1) | 119.1 (± 8.9) | 124.4 (± 10.8) | 124.7 (± 10.6) | 0.787 |
| Total cholesterol (mg/dl) | 223.9(± 7.3) | 225.3(± 6.8) | 223.6(± 7.2) | 226.5(± 6.8) | 0.783 |
| LDL cholesterol (mg/dl) | 56.3(± 2.6) | 56.5(± 2.3) | 56.7(± 2.5) | 54.6(± 2.8) | 0.268 |
| HDL cholesterol (mg/dl) | 145.4(± 6.0) | 143.1(± 5.8) | 145.7(± 6.3) | 146.4(± 5.7) | 0.772 |
| SBP (mmHg) | 127 (± 3) | 127 (± 3) | 128 (± 3) | 126 (± 2) | 0.901 |
| DBP (mmHg) | 80(± 2) | 79 (± 2) | 80 (± 2) | 80 (± 2) | 0.871 |
From five PPARγ2 Ala12Ala subjects and five BMI-matched Pro12Pro control subjects' microarray analyses were made after each intervention. The data have been deposited in NCBI's Gene Expression Omnibus and are accessible through GEO Series accession number GSE16615. The experiment showed the presence of approximately 12 000 gene transcripts in subcutaneous adipose tissue, belonging to about 1200 different genes. According to Wilcoxon test at p < 0.05, 310 genes were changed by the CLA preparations as compared to the control intervention. After Benjamini Hochberg Correction as post hoc test for multiple testing no intervention showed significant effects.
According to Westfall and Young permutation the cut off for a significant difference in gene expression between CLA and control intervention was set at +/- 1.51 fold change. Among the genes exceeding this limit only those were further evaluated that were detected on all microarrays, showed annotated gene symbols and resulted in no hypothetical proteins. Following these criteria 1020 gene transcripts were differently expressed after CLA intervention compared to the control (Figure
1
).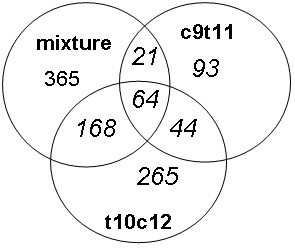 The expression of 42 genes was verified by realtime PCR after all interventions in all subjects. The criteria for gene selection were as follows: they showed a strong difference in the expression after one or more CLA interventions compared to the control in microarray analysis, they showed a different expression between the two genotype groups after an intervention, they are a member of a regulated pathway (pathway analysis with Ingenuity Pathway Analyses™) or they were previously described to be regulated by CLA.
Table
2
shows genes that were significantly regulated after CLA interventions (p < 0.05) or showed a strong tendency to be regulated (more than +/- 1.51 fold change and p ≤ 0.1).
Table 2
Fold change (median) of genes after 4 weeks intervention with a mixture of c9t11 and t10c12 CLA, c9t11 CLA, and t10c12 CLA compared to control (LA) according to realtime PCR verification.
MIX

C9T11 CLA

T10c12 CLA

Gene symbol [NCBI RefSeq]

all

Pro

Ala

all

Pro

Ala

all

Pro

Ala

Fatty acid transport and metabolism

PPARγ dependency

   ABCA9 [NM_080283.3]

-1.3*

-1.3*

-1.4*

n/a

   LDLR [NM_000527.3]

1.2**

1.8**

1.5**

1.5**

↑[85]

   CD36 [NM_001001547.1]

-1.2*

-1.6*

-1.3*

-1.2*

   LIPE [NM_005357.2]

1.96†

1.8†

↑[23]

   CA3 [NM_005181.2]

-2.0**

-2.0*

n/a

   FASN [NM_004104.4]

1.5*

1.2*

1.4*

↑[87]

   SCD [NM_005063.4]

1.3*

1.5*

1.9*

   FADS1 [NM_013402.3]

1.6*

1.6*

n/a

Transkription factors

   PPARG [NM_138711.3]

-1.4**a

1.3 b

   NFAT5 [NM_138713.2]

-1.5*

-1.6*

-1.6*

-1.9†

n/a

   CREB5 [NM_182899.3]

-1.5*

-1.9†

n/a

   EBF1 [NM_024007.3]

-1.5†

↑[89]

Adipokines

   ADIPOQ [NM_004797.29]

1.6†

1.5†

   LEP [NM_000230.2]

-1.2 a

1.7†b

↓[92]

   NAMPT [NM_005746.2]

-1.6*

= [62]

   THBS1 [NM_003246.2]

1.5**

1.3*

1.5*

Insulin signaling

   IGF1 [NM_001111284.1]

-1.5†

-1.2**

-1.2*

↓ [93]

   SLC2A4 [NM_001042.2]

1.3*

1.5†

↑[94]

   SORBS1 [NM_001034954.1]

-1.2*

↑[74]

   PIK3R1 [NM_181523.1]

-1.6†

↑[95]

Others

   HPGD [NM_000860.3]

-1.3**

-1.4**

-1.6*

See text

   API5 [NM_006595.2]

-1.3†

-1.5*

n/a

   CD74 [NM_001025158.1]

1.2*

n/a

   UCP2 [NM_003355.2]

1.14*

1.8†

↑[79]

   IL6ST [NM_175767.1]

-1.3*

-1.5†

-1.8†

n/a
Discussion
To elucidate the mechanism of different effects exerted by individual CLA isomers and the mixture of both CLA isomers, a stepwise approach was applied. Following a hypothesis free approach by human genome wide gene expression screening, expression was verified by realtime PCR in those genes which showed measurable differences in expression compared to control intervention in the microarray experiment, which are members of relevant pathways or which were described in the literature as being regulated by CLA. Not all microarray results from a subgroup of five respectively ten persons could be verified for the whole study group by realtime PCR.
Microarray results indicated that single isomers and the CLA mixture of both isomers may modulate different genes. This was also confirmed by the results of realtime PCR (table 2). This may be due to the given structural differences between these isomers and due to the fact that more than one biochemical mechanism is supposedly involved in their specific effects.
Conclusion
CLA intake was shown to reduce BMI and body fat in overweight subjects in a number of studies [4]. Up to now, several human studies have been published but the effects on the risk markers of atherosclerosis and on traits of metabolic syndrome were rather inconsistent. Only few data are available on the effect of individual CLA isomers. This study provides novel information about the effects exerted by single CLA isomer intake on several genes as assessed by genome-wide gene expressions in human adipose tissue, prompting further insights in the mechanism of CLA action. Furthermore this is the first study in humans which focused on gene-nutrient interactions with respect to the PPARγ2 Pro12Ala SNP and CLA isomers.
Only two genes showed significant effects after c9t11 CLA intervention. This confirms the microarray results from Murphy et al [84], where there was no significant alteration in gene expression after the incubation of CaCo2 cells with c9t11 CLA, but plenty of effects after t10c12 CLA stimulation compared to linoleic acid control.
In summary the intervention with CLA mixture had the strongest effect on the key enzyme of PUFA synthesis, FADS1, which may indicate anti-inflammatory and anti-arteriosclerotic effects. t10c12 CLA showed regulatory effects on various genes: lower expression levels of CA3 and IGF1 after t10c12 CLA treatment in the whole group could be a sign for a beginning insulin resistance. On the other hand, higher expression levels of SCD, a key enzyme of MUFA synthesis, lower expression of visfatin, the tendency towards higher levels of adiponectin and the reduction in CREB5 gene expression in rare allele carriers indicate beneficial effects of t10c12 CLA for this genotype.
The CLA mixture treatment caused significant genotype specific differences in expression of PPARγ and the PPAR dependent leptin gene. The fact that the CLA effect on expression of PPARγ and leptin genes depends on the PPARγ2 Pro12Ala polymorphism suggests that PPARγ2 contributes to regulatory effects of CLA. The results of the PPARγ dependent genes, however, do not show a uniform pattern and interfering factors like HPGD further diversified response to dietary intervention, reflecting the complexity of interacting regulators.
Authors' Affiliations
(1)
Max Rubner-Institut, Federal Research Institute of Nutrition and Food, Department of Physiology and Biochemistry of Nutrition, Karlsruhe and Kiel, Germany
(2)
First Department of Medicine, UKSH Kiel, Kiel, Germany
(3)
Institute for Clinical Molecular Biology, UKSH Kiel, Kiel, Germany
(4)
Center of Clinical Research, Tecura GmbH Medizin & Biotechnik, Kiel, Germany
(5)
Nutrition & Health - Global R & D, Cognis GmbH, Monheim, Germany
Copyright
© Herrmann et al; licensee BioMed Central Ltd. 2009
This article is published under license to BioMed Central Ltd. This is an Open Access article distributed under the terms of the Creative Commons Attribution License (http://creativecommons.org/licenses/by/2.0), which permits unrestricted use, distribution, and reproduction in any medium, provided the original work is properly cited.