Melatonin: a potential intervention for hepatic steatosis
Lipids in Health and Disease
2015
14:75
Received: 17 January 2015
Accepted: 14 July 2015
Published: 22 July 2015
Abstract
Melatonin (N-acetyl-5-methoxytryptamine, MLT) is a neuroendocrine hormone, which is primarily synthesized by the pineal gland in vertebrates. Melatonin is a remarkable molecule with diverse biological and physiological actions and is involved in the regulation of various important functions such as circadian rhythm, energy metabolism, the reproductive system, the cardiovascular system, and the neuropsychiatric system. It also plays a role in disease by having anti-neoplastic and anti-osteoarthritic effects among others. Recently, research has focused on the roles of melatonin in oxidative stress, lipid metabolism, and hepatic steatosis and its potential therapeutic roles.
Keywords
MelatoninLipid metabolismNAFLD
Introduction
Melatonin is a neuroendocrine hormone secreted by the pineal gland [
1
]. In mammals, the synthesis of melatonin is initiated by the transformation of tryptophan to 5-Hydroxytryptamine. 5-Hydroxytryptamine is converted into N-acetyl-5-hydroxytryptamine catalyzed by aralkylamine-N-acetyrltransferase (AANAT). After several additional reactions it is finally converted into N-acetyl-5-methoxytryptamine (Fig.
1
) catalyzed by hydroxyindole O-methyltransferase (HIOMT) and this finally indole product is termed melatonin [
2
]. The synthesis and secretion of melatonin is regulated by light intensity [
3
]. Variations in light intensity stimulate the retinal ganglion cells to depolarize which stimulates the hypothalamic suprachiasmatic nucleus via the optic nerve. The hypothalamic suprachiasmatic nucleus releases adrenaline through the postsynaptic ganglion net, thus functioning in the pineal gland. Ultimately, the expression and activity of AANAT enzyme in pineal gland is up or down-regulated, and regulates the synthetic and secretion of melatonin.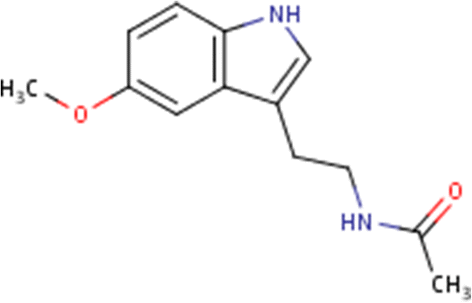 Research has shown that [4] there is an obvious circadian rhythm in the blood levels of melatonin in vertebrates, with levels being higher at night and lower during the day. After synthesis, melatonin is released into the cerebrospinal fluid and blood immediately and then is distributed throughout the body in the systemic circulation.
Conclusion
In conclusion, melatonin has significant anti-oxidation and anti-inflammatory activities. In various studies in animals and human, melatonin has been shown to be beneficial not only in lipid metabolism, but also in improving liver fat accumulation and insulin resistance as well. As a regulator of various systems, melatonin may prove to be an important therapeutic choiceto improve dyslipidemia and hepatic steatosis.
Declarations
Acknowledgements
This article was supported by the financial from the Shanghai Shenkang Prevention Program of Disease (No. SHDC12012303) and Chinese Medical Association Fund (No. 12020 550355).
Authors' Affiliations
(1)
Department of Endocrinology and Metabolism, Shanghai Tenth People's Hospital, School of Medicine, Tongji University, Shanghai, China
Copyright
© Sun et al. 2015
This is an Open Access article distributed under the terms of the Creative Commons Attribution License (http://creativecommons.org/licenses/by/4.0), which permits unrestricted use, distribution, and reproduction in any medium, provided the original work is properly credited. The Creative Commons Public Domain Dedication waiver (http://creativecommons.org/publicdomain/zero/1.0/) applies to the data made available in this article, unless otherwise stated.