Long chain polyunsaturated fatty acids (LCPUFAs) and nordihydroguaiaretic acid (NDGA) modulate metabolic and inflammatory markers in a spontaneous type 2 diabetes mellitus model (Stillman Salgado rats)
Lipids in Health and Disease
2016
15:205
Received: 20 March 2015
Accepted: 4 November 2016
Published: 25 November 2016
Abstract
Background
Diabetes mellitus (DM) is a complex disease with alterations in metabolic and inflammatory markers. Stillman Salgado rats (eSS) spontaneously develop type 2 DM by middle age showing progressive impairment of glucose tolerance with hyperglycemia, hypertriglyceridemia and hyperinsulinemia. We analyzed the effects of supplementation of ω-3 and ω-6 polyunsaturated fatty acids (PUFAs) with or without nordihydroguaiaretic acid (NDGA) added, an antioxidant and lipoxygenase inhibitor, on metabolic and inflammatory parameters in eSS rats to evaluate whether they can delay development and/or prevent progression of DM.
Methods
After weaning, eSS rats received, intraperitoneally, once a month ω-3 (EPA 35% and DHA 40%–6.25 mg/Kg) or ω-6 (90% arachidonic acid- 6. 25 mg/Kg) for twelve months. Two additional groups of rats received 1.9 mg/kg NDGA added to ω-3 and ω-6 fatty acids. Blood samples were collected at day 40, and at the end of the 6th month and 12th month of age to determine plasma triglycerides (TGs), total plasma fatty acids (FA), A1C hemoglobin (HbA1C), C-reactive protein (CRP), gamma glutamyl transpeptidase (GGT), lipo and hydro peroxides, nitrites and IL-6 (in plasma and liver, kidney, and pancreas) and underwent oral glucose tolerance test (OGTT) as well. Wistar and eSS rats that received saline solution were used as controls.
Results
Plasma lipids profile, TG, fasting and post-prandial blood glucose levels, and glycosylated HbA1C showed significant improvements in ω-3 and ω-3 + NDGA treated animals compared to eSS control group. ω-3 and ω-3 + NDGA groups showed an inverse correlation with fasting blood glucose and showed lower plasma levels of GGT, TG, and CRP. eSS rats treated with ω-3 LCPUFAs showed reduced level of inflammatory and oxidative indices in plasma and liver, kidney and pancreas tissues in comparison with eSS control (non-treated) and ω-6 treated groups.
Conclusions
eSS rats are a useful model to study type 2 DM pathophysiology and related inflammatory indices. ω-3 + NDGA supplementation, at the doses tested, ameliorated inflammatory, metabolic and oxidative stress markers studied.
Keywords
Type 2 diabeteseSS rats (Stillman Salgado rats)PUFAsChronic inflammationOxidation processPlasma triglyceridesNordihydroguaiaretic acid
Background
DM is a complex disease in which alterations in metabolic and inflammatory indices including perturbations in the metabolism of glucose, lipids and proteins occur. Perturbations in the oxidative cycle and cellular stress and alterations in glucose metabolism result in an elevation of inflammatory markers: interleukins-2 and 6 (IL-2 and IL-6), leukotrienes (LTs such as LTB4), and C-reactive protein (CRP) [1]. The increasing incidence of DM not only impacts the health of the affected individual but also enhances the cost of health care and has implications for political, economic, and social issues of the society [2]. DM is estimated to affect about 366 million by 2030. DM and obesity have common pathophysiological pathways that may occur due to inadequate physical activity and consumption of high-calorie/high-fat food intake that results in insulin resistance and metabolic syndrome [3]. It has been reported that an imbalance in the metabolism of ω-3 and ω-6 long-chain polyunsaturated fatty acids (LCPUFAs) occurs in obesity, insulin resistance, metabolic syndrome, and DM [4, 5].
eSS rats are a strain derived from inbred Wistar rats, which develop spontaneously type 2 DM without obesity that resembles closely type 2 DM seen in adult humans. Type 2 DM is more severe in male eSS rats and they survive an average of 18 months if insulin is not administered to control hyperglycemia. In early stages of the development of DM, eSS rats show glucose intolerance with hyperinsulinemia and dyslipidemia. These findings are similar to those observed in humans with type 2 DM [6–8].
In the present study, we administrated ω-3 (fish oil rich in EPA 35% and DHA 40% obtained from Natufarma® Argentina) and ω-6 (AA 90% Sigma®) PUFAs with and without nordihydroguaiaretic acid (NDGA), and studied their effects on metabolic and inflammatory indices. NDGA is a natural product extracted and isolated from native shrub specie of Larrea sp. NDGA inhibits predominantly lipoxygenase (LOX) and partially, cyclooxygenase (COX) pathways with powerful anti-inflammatory, anti-apoptotic and anti-oxidative actions [9, 10]. It is believed that inhibition of LOX and COX pathways and administration of anti-inflammatory compounds may be of benefit in type 2 DM especially in preventing long-term complications of DM especially those related to inflammatory and oxidative stress related complications that are generally mediated by IL-6, tumor necrosis factor-α (TNF-α), prostaglandin E2 (PGE2, derived from arachidonic acid), reactive oxygen species (ROS) and other related molecules. It has been postulated that ω-3 PUFAs are capable of suppressing IL-6, TNF-α, PGE2, and ROS production and thus, may be of benefit in type 2 DM. Hence, we studied the effect of ω-3 PUFAs with and without NDGA on various inflammatory and oxidative stress indices in eSS rats. We have chosen intraperitoneal route to administer PUFAs and NDGA because it allows to deliver the exact amount of the desired substance without loss or unintentional spills and to bypass possible influences of gut enzymes, gut microbiota and dietary fiber among others on the chosen chemicals that are employed to study [5, 11–16].
The results of this study showed that intraperitoneal administration of ω-3 LCPUFAs and, especially that of a combination of ω-3 + NDGA decreased oxidative and inflammatory markers and improved metabolic parameters in this eSS model of spontaneous type 2 DM.
Results and discussion
Weight
It was observed that breast-fed eSS rats had a higher body weight compared to Wistar rats till the age of 6 months. But, this difference in their body weights disappeared at 6
th
and 12
th
months (Fig.
1
).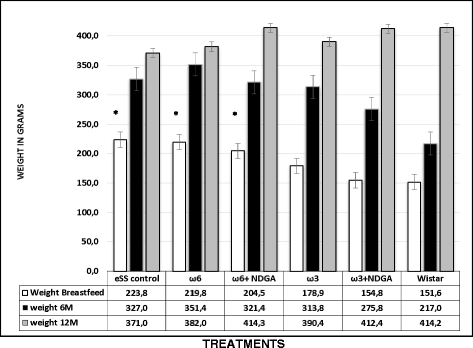 Conclusions
In the spontaneous eSS rat type 2 DM model, as shown in the present study, ω-3 LCPUFAs are more effective than ω-6 in suppressing pro-inflammatory and oxidative stress markers seen in DM. These results are in agreement with the evidence that diets rich in ω-6 LCPUFAs such as red meat enhances circulating IL-6 levels and causes hyperglycemia and hyperlipidemia contributing to insulin resistance [56], though this is still debated. Hence, it is essential that a balance is maintained between ω-6/ω-3 LCPUFAs by consuming more amounts of ω-3 (mainly present in marine fish such as EPA and DHA) in the diet or by oral supplementation of fish oil capsules that may aid in suppressing inflammatory and oxidative stress indices and enhance insulin sensitivity and improve endothelial function [5, 43]. In this context, it is interesting to note that supplementation of both ω-3 and ω-6 PUFAs especially in combination with NDGA (while ω-6 PUFAs alone failed) inhibited hepatic IL-6 levels compared to eSS control (see Fig. 13) and these results are in line with the previous report that ω-3 PUFAs significantly reduces liver oxidative stress induced by high fat diet [57]. In addition, the observation that addition of NDGA has accentuated the beneficial actions of both ω-3 and ω-6 PUFAs in the presence of NDGA is rather interesting. Though we interpreted this beneficial action of NDGA in terms of its LOX inhibitory property, we are aware to the possibility that NDGA might be bringing about its useful actions by virtue of its antioxidant properties which are related to its ability to modulate Nrf2/ARE (nuclear factor erythroid 2-related factor 2/antioxidant response element) antioxidant pathway [58].
In a similar fashion, the beneficial actions of ω-3 and ω-6 PUFAs observed in the present study may also be due to the ability of these PUFAs to bypass the inhibitory action of high fat diet on enzymes desaturases [59] and upregulation of PPARs and inhibition of NF-kB by these unsaturated fatty acids [60]. Thus, the beneficial actions of various PUFAs are rather complex that need to be dissected in future studies
In the present study, we observed that NDGA supplementation along with ω-3 LCPUFAs is better suited to modify metabolic and inflammatory parameters that may be beneficial in restricting the progression of DM in eSS rats and its associated complications. The beneficial actions seen with the addition of NDGA along with ω-3 and possibly with ω-6 LCPUFAs could be related to the preferential formation of anti-inflammatory compounds from EPA and DHA and AA such as lipoxins, resolvins and protectins as proposed previously [5, 43]. However, these proposals need confirmation in future studies.
On the basis of the present results, we conclude that eSS rat type 2 DM model is useful to conduct studies as to the involvement of PUFAs and their metabolites in the pathophysiology of type 2 DM and their involvement of inflammatory process and oxidative stress events.
Methods
Experimental design
A total of 105 male rats were used, of which 15 were Wistar and 90 were eSS. After weaning, forty days old rats were randomly assigned to different groups as shown in Table
4
. All animals were fed
ad libitum
with chow diet. Treatments were given once in a month for twelve months. All experimental animals received 0.40 ml (total volume) of isotonic saline solution (SS) added with PUFAs dissolved in 0.5% of ethanol and NDGA, as detailed in Fig.
4
. Doses used were selected based on previous experiments and published literature [
61
]. All biochemical studies were performed at day 40 (before the start of PUFAs treatment) designed as breastfeeding weaning period, it was previously suggested that both obesity and type 2 DM may have their origins in the perinatal period, and at the end of 6 and 12 months of age [
62
,
63
]. Wistar and a set of eSS rats received only saline solution formed the control groups. Blood samples were obtained from tails puncture of the animals for biochemical studies. After extraction, whole blood underwent centrifugation at 1500 RPM by 10 min and sodium citrate (70%) was used as anti-coagulant. Samples were kept at −80 °C freezer. This is supported by the results of the present study shown in Fig.
4
, where it is seen that fasting plasma glucose levels estimated on day 40 (breastfeeding weaning period) are higher in control eSS rats compared to all other groups.
Table 4
Various experimental groups used in the study are shown
Groups

Wistar non eSS

eSS control

ω6

(6.25 mg/kg monthly)

ω-3

(6.25 mg/kg monthly)

ω6 + NDGA

(6.25 mg/kg AA + 1.9 mg/kg NDGA monthly)

ω3 + NDGA

(6.25 mg/kg DHA/EPA + 1.9 mg/kg NDGA monthly)

Total n = 105

n = 15

n = 10

n = 21

n = 29

n = 14

n = 16
Blood glucose was assayed in the venous blood with a glucometer (Accu-chek Performa®) monthly. Glycosylated Hemoglobin (A1C) was estimated by A1c Now ® (Bayer) meter. Serum triglyceride (TG) was assayed by enzymatic colorimetric method. Plasma ultra-sensitive CRP (hs-CRP), lipo- and -hydro peroxides, nitrites, and plasma gamma-glutamyl transpeptidase (GGT) were determined by colorimetric methods [64]. IL-6 levels were measured by ELISA (DO 450 and 570 nm) at 12 months of age in plasma and organs samples (as per tissue weight). At the end of 12 months, rats were euthanized by overdoses of isofluorane and tissue samples were obtained, homogenized, and processed for GLC, IL-6 determination and other assays.
Oral glucose tolerance test (OGTT)
Animals were fasted for 8 h prior to this test. Fasting blood sample was obtained for glucose estimation and a second sample was obtained 2 h after the administration of oral glucose solution (1.75 g/Kg).
Total plasma fatty acids profile determined by Gas chromatography
The lipids were extracted by Folch's method and methylated with sodium methoxide. The separation, quantification and identification of fatty acid methyl esters (FAME) was performed using a capillary column (BPX 20 m longitude, 0.25 mm ID, 0.25 μm film, SUPELCO®, USA) in a Clarus 500® (Perkin-Elmer) gas chromatograph. The FAMEs were identified using a commercial standard (Nu-check®, USA). All values are expressed as % Area of total.
Statistical analysis
The results are expressed as mean ± SE. Comparisons between multiple groups were performed by one-way ANOVA or Kruskall-Wallis test followed by Dunn's post hoc test. The paired Student's t test was used to analyze results of blood glucose test. Correlations between groups were determinate by Pearson Test, analysis of covariance and correlation test. Statistical significance was P < 0.05. All statistical tests were performed using INFOSTAT 3.1 and GRAPHPAD PRISM 5 software.
Abbreviations
A1c:

Glycosylated hemoglobin
COX:

Cyclooxygenase
CRP:

Plasmatic C reactive protein
DM:

DM mellitus
eSS rats:

Stillman Salgado Rats
FBG:

Fasting blood glucose
FFA:

Free fatty acid
GGT:

Plasmatic Gamma Glutamyl Transpeptidase
GLC:

Gas liquid chromatography
LGCI:

Low-grade systemic chronic inflammation
LOX:

Lipoxygenase
MUFAs:

Mono unsaturated fat acid
NDGA:

Nordihydroguaiaretic acid
PBG:

Postprandial blood glucose
PUFAs:

Polyunsaturated fatty acid
ROS:

Reactive oxygen species
SFA:

Saturated fatty acid
TAK1:

Transforming growth factor β-activated kinase 1
TGs:

Plasmatic triglycerides
Declarations
Acknowledgments
UND is in receipt of Ramalingaswami Fellowship of the Department of Biotechnology during the tenure of this study.
The funders had no role in study design, data collection and analysis, decision to publish, or preparation of the manuscript. This does not alter our adherence Lipids in Health and Disease on sharing data and materials.
Funding
This work was supported, in part, by grants from the Department of Biotechnology (DBT No. BT/PR11627/MED/30/157/2010), Department of Science and Technology (No. IR/SO/LU/03/2008/1) under Intensification of Research in High Priority Areas (IRPHA), and Defence Research and Development Organization, New Delhi ([TC/2519/INM - 03/2011/CARS] under R&D Project INM-311) to UND.
This work was supported, in part, by the funds provided by CONICET, SECYT-UNC and SECYT-UNLaR (Argentina).
Availability of data and materials
The authors confirm that all data underlying the findings are fully available without restriction. All relevant data are within the paper as figures and its supporting information files.
Authors' contributions
Conceived the idea: ARE, AD, GR, UND; Performed the studies: AD, GR, GDG; Interpretation of the data: AD, GR, GDG, JV, UND, ARE; Drafted the manuscript: AD, GR, GDG, JV, UND, ARE. All Authors read and approved the final manuscript.
Competing interests
UND is the President and CEO of UND Life Sciences that performs research in the area of essential fatty acids and their metabolites and their role in various physiological and pathological processes. UND Life Sciences has no products in the market pertaining to the work reported in the present manuscript. This does not alter our adherence to Lipids in Health and Disease on sharing data and materials. Other authors have declared that no competing interests exist. The funders had no role in study design, data collection and analysis, decision to publish, or preparation of the manuscript. Author UND is the President and CEO of UND Life Sciences without any financial compensation. UND Life Sciences did not have any additional role in the study design, data collection and analysis or decision to publish. The specific roles of this author is articulated in the 'author contributions' section".
Ethics approval and consent to participate
National and International ethical guidelines were followed in conducting this research and protocol was approved by our Institutional ethics committee.
Open AccessThis article is distributed under the terms of the Creative Commons Attribution 4.0 International License (http://creativecommons.org/licenses/by/4.0/), which permits unrestricted use, distribution, and reproduction in any medium, provided you give appropriate credit to the original author(s) and the source, provide a link to the Creative Commons license, and indicate if changes were made. The Creative Commons Public Domain Dedication waiver (http://creativecommons.org/publicdomain/zero/1.0/) applies to the data made available in this article, unless otherwise stated.
Authors' Affiliations
(1)
Biología Celular, Histología y Embriología, Facultad de Ciencias Medicas, INICSA (CONICET-Universidad Nacional de Córdoba), Córdoba, Argentina
(2)
Cátedra de Histología, Embriología y Genética, Universidad Nacional de La Rioja, La Rioja, Argentina
(3)
CONICET, Córdoba, Argentina
(4)
Department of Food Science, Penn State University, University Park, USA
(5)
UND Life Sciences, Federal Way, USA
(6)
BioScience Research Centre and Department of Medicine, GVP Hospital, Gayatri Vidya Parishad College of Engineering Campus, Visakhapatnam, India