Perilipins: a diversity of intracellular lipid droplet proteins
Lipids in Health and Disease
2017
16:83
Received: 24 February 2017
Accepted: 22 April 2017
Published: 28 April 2017
Abstract
Intracellular lipid droplets (LDs) are found in a wide variety of cell types and have been recognized as organelles with unique spherical structures. Although LDs are not stable lipid-depots, they are active sites of neutral lipid metabolism, and comprise neutral lipid or cholesterol cores surrounded by phospholipid monolayers containing specialized proteins. However, sizes and protein compositions vary between cell and tissue types. Proteins of the perilipin family have been associated with surfaces of LDs and all carry a conserved 11-mer repeat motif. Accumulating evidence indicates that all perilipins are involved in LD formation and that all play roles in LD function under differing conditions. In this brief review, we summarize current knowledge of the roles of perilipins and lipid metabolizing enzymes in a variety of mammalian cell types.
Keywords
PerilipinLipid dropletHydroxysteroid dehydrogenase
Background
Triacylglycerol (TG) and cholesterol ester (CE) are the major neutral lipids in human bodies. Because of their hydrophobic nature, neutral lipids are insoluble in water and spontaneously form aggregates to minimize lipid–water interfaces. Accordingly, lipid droplet (LD) structures comprise a neutral lipid core surrounded by a monolayer of phospholipids and specialized LD-associated surface proteins. Previous proteomic analyzes have demonstrated distinct protein profiles of LDs from various sources [1–5]. Moreover, certain LD proteins have been distinctly localized on LD particles in immunocytochemical analyzes [6–8], and phospholipid compositions of LD reportedly differ from those of hepatic endoplasmic reticulum (ER) membranes [9]. These observations have led to wide acceptance of LDs as unique organelles [10].
Although intracellular LDs are reportedly ubiquitous, their neutral lipid contents vary between cell and tissue types. In particular, unilocular LDs occupy considerable portions of the cytosol in white adipose tissues (WAT), which are sites of fat storage in mammals. Although the liver is a major lipid metabolizing organ, hepatic LDs are small and are present in limited numbers under physiological conditions. However, excessive lipid accumulation in fatty livers is associated with increased numbers and sizes of cytosolic LDs. In atherosclerotic lesions, macrophage-derived foam cells accumulate large amounts of TG and CE from lipoproteins. Moreover, specialized hormone-secreting cells contain CE storage LDs from which steroid hormones are produced.
Over the last two decades, LDs have been extensively characterized in terms of size, lipid content, and protein composition. The perilipin proteins PLINs1–5 are the major LD-associated proteins (Table
1
) [
11
,
12
], and whereas PLIN1 is predominantly expressed in adipocytes, PLIN2 is expressed ubiquitously. Because PLIN1 and PLIN2 are located on LD particle surfaces, they are considered marker proteins for LDs. Recent studies on other PLIN proteins suggest roles in the formation of LDs, and both diversity and redundancy have been demonstrated among them. In addition, some lipid metabolizing enzymes reportedly act as major LD components in certain cell types. In this brief review, we summarize the characteristics of major LD proteins, including PLIN proteins.
Table 1
Basic characteristics of PLIN proteins
Proteins

Alternative names

Major cite of expression

Other cites of expression

Function

PLIN1

Perilipin A

WAT

BAT, cardiac muscle liposarcoma

hormone-induced lipolysis

large LD stabilization

PLIN2

ADRP,

ADFP (human ADRP)

Adipophilin

Liver

premature adipocytes

macrophages

sebocytes

mammary gland epithelia

choriocaricinoma cells (BeWo)

ubiquitously expressed

adipocyte differentiation

small LD generation

LD stabilization

PLIN3

TIP47

ubiquitous

skeletal muscle

neutrophils, mast cells

retinal pigment epithelium

sebocytes

LD stabilization (compensation of PLIN2)

PGE2 production

intracellular trafficking

PLIN4

S3–12

WAT

hMSC (induced during differentiation)

skeletal muscle

human adipocyte differentiation

PLIN5

MLDP, OXPAT, LSDP5

cardiac muscle

BAT

skeletal muscle

islet β-cells

hepatic stellate cells

LD stabilization

FA supply to mitochondria
Discovery of PLIN proteins
Neutral lipids are ubiquitously present in mammalian cells, and their synthetic routes have been investigated previously, as schematized in Fig.
1
. TG are synthesized from glycerol 3-phophate and three fatty acids. Specifically, sequential acylation of glycerol 3-phophate produces phosphatidic acid, which is a branch point for the synthesis of TG and phospholipids. Phosphatidic acid is subsequently dephosphorylated by the enzyme lipin, and the resulting diacylglycerol (DG) is converted to TG upon addition of the third fatty acyl group by diacylglycerol acyltransferase (DGAT), which is localized in the endoplasmic reticulum (ER). In contrast, free cholesterol (FC) is either synthesized de novo or is derived from extracellular sources [
13
], and is acylated by ER localized acyl-CoA cholesterol acyltransferase (ACAT). The neutral lipids TG and CE accumulate in intracellular LDs, and are used as sources of energy or steroid hormone precursors in the mitochondria.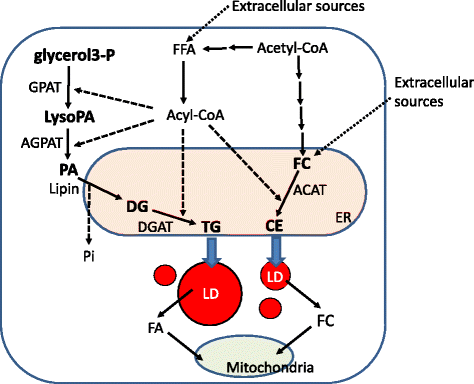 Although the presence of neutral lipid particles in cells has long been known, LDs received little attention until the major phosphorylated protein in adipocytes, perilipin A (PLIN1), was identified on LD surfaces and was shown to regulate the accumulation and hydrolysis of TG [14]. Adipocyte LDs are surrounded by a phospholipid monolayer containing PLIN1, which is phosphorylated by cAMP-dependent protein kinase (PKA) during adrenalin-dependent acute lipolysis. Regulatory mechanisms underlying the formation of LDs in cells have become an active area of research.
Following identification and cloning of perilipin A, adipose differentiation-related protein (ADRP) and tail-interacting protein of 47 kDa (TIP47) were found to possess a conserved domain called the PAT domain, which was named after the three proteins
p
erilipin A,
A
DRP, and
T
IP47 [
15
]. In addition to the PAT domain, these proteins have an 11-mer repeat motif in common. TIP47 was initially reported to be associated with protein trafficking between the lysosome and Golgi body [
16
], and S3–12 and myocardial LD proteins (MLDP) were subsequently included in this family [
17
,
18
]. Their localization to LD surfaces was confirmed, although TIP47 and S3–12 were also observed in the cytosol (Fig.
2
).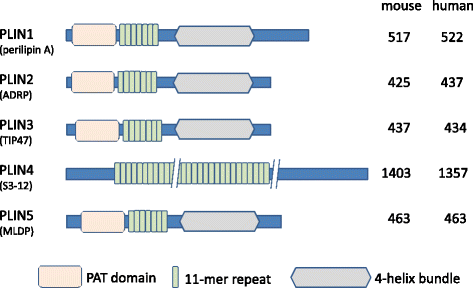 PLIN proteins lack putative transmembrane domains, and it remains unclear how PLINs are associated with LD surfaces. Although the PAT domain contributes to protein associations with LDs, other determinants of LD localization have been suggested, including various other parts of PLIN proteins. Specifically, studies of deletion mutants showed that N- and C-terminal regions and central portions of PLIN1 and PLIN2 are required for LD localization [19, 20]. Another recent study demonstrated that the 11-mer repeat forms amphipathic helices that bind micelles and LDs [21]. Accordingly, various point mutations within the 11-mer repeats of PLIN1–3 changed amphipathic amino acid alignments and abolished LD associations. Eleven-mer repeats have been found in other proteins, including apolipoproteins and the Parkinson's disease protein α-synuclein [22], which reportedly binds LD-associated proteins in lipid-loaded hippocampal neurons [23]. Moreover, a four-helix bundle structure that resembles that of apolipoprotein E (apoE) was identified in a study of the 3-dimensional structure of C-terminal region of PLIN3 [24], and similar structures were predicted in homology analyses of PLIN1, PLIN2, and PLIN5 [21, 25].
Among PLIN family members, PLIN4 has unique structural characteristics, including the absence of a PAT domain and a polypeptide length of almost three-fold those of other PLIN proteins. However, like PLIN1, PLIN4 is expressed in adipose tissues and it is localized to LDs; its 11-mer repeat is likely crucial for LD associations.
Proteins on LDs in steroidogenic cells
As described above, multiple studies have shown the presence of five PLIN proteins as major LD-associated proteins in various tissues and cell types, and some studies clearly demonstrated that PLIN proteins are crucial for the generation of LD particles. However, LDs that accumulate cholesterol in steroid hormone-producing cells may differ from TG-accumulating LDs [82]. PLIN1 and PLIN2 were identified in MA-10 Lydig cells and Y-1 adrenocortical cells in early studies [8, 83], and Hsieh et al. showed that different PLIN proteins were induced in mouse adrenal cortical cells and liver cells when treated with oleic acid or cholesterol. PLIN4 and PLIN1c, which is a splice variant of PLIN1, were present during the formation of CE-rich LDs [84]. It has been shown that CE-rich LDs behave differently from TG-rich LDs in Y-1 cells [85].
Mouse MLTC-1 Leydig tumor cells were originally derived from mouse Leydig cells that produced androgens from cholesterol, and they were shown to harbor medium sized LDs containing CE and TG. The protein profile of the LD fraction from MLTC-1 cells was distinct from those in macrophage and liver cell lines [86]. In further experiments, more than 50 proteins were identified in the LD fraction using LC-MS/MS analysis, and among these, the two enzymes 3β-hydroxysteroid dehydrogenase 1 (3β-HSD1) and 17β-HSD11 were determined to be the major proteins in this LD fraction, judging by the SDS-PAGE pattern. PLIN1, PLIN2, and PLIN3 together with ATGL were found in the LD fraction, but were present at lower levels than the major two enzymes. Following stimulation of MLTC-1 cells with luteinizing hormone, LDs became smaller and distributions of the LD proteins 3β-HSD1, 17β-HSD11, and PLIN1 changed from the buoyant fraction to intermediate density fractions. Thus, because 3β-HSD1 and 17β-HSD11 are key enzymes for steroid hormone synthesis, LDs in Leydig cells may have roles in cholesterol storage and act as reservoirs of enzymes for steroidogenesis.
Protein profiles of LDs in steroidogenic primary rat granulosa cells were investigated following incubation with either HDL or fatty acids to induce cholesterol-enriched LDs or TG-enriched LDs, respectively. In this study, quantitative proteomic analyses of differentially expressed proteins were performed using isobaric tag labeling [87], and 3β-HSD1 was among 61 proteins with >2-fold expression in cholesterol-enriched LDs compared with TG-enriched LDs.
Hydroxysteroid dehydrogenases (HSDs) are a family of enzymes that oxidize sterols, and sterol metabolizing enzymes are thought to predominate in smooth ER and mitochondria. However, among published proteomic analyses of LD proteins, HSDs are frequently reported in LD fractions with 17β-HSD11 [1–5, 88, 89]. Moreover, Motojima et al. identified a putative LD-association motif in 17β-HSD11 [90]. These observations suggest that HSD proteins to some extent are present in the LD fraction, and some cooperative activity may exist among the ER, mitochondria and LDs during the course of sterol metabolism.
Conclusion
PAT family proteins are known as LD-associated proteins and multiple studies have characterized the physiological roles of PLIN1 in TG metabolism in WAT. Recent studies also show characteristic features of PLIN proteins that are consistent with tissue-specific expression patterns and cooperative functional roles in LDs. In addition, HSD proteins may participate in the formation and function of cholesterol-enriched LDs.
Abbreviations
ACAT:

Acyl-CoA cholesterol acyltransferase
ADRP:

Adipose differentiation-related protein
AGPAT:

Acylglycerophosphate acyltransferase
ATGL:

Adipose triacylglycerol lipase
CE:

Cholesterol ester
CGI:

Comparative gene identification
DG:

Diacylglycerol
DGAT:

Diacylglycerol acyltransferase
DHA:

Docosahexaenoic acid
ER:

Endoplasmic reticulum
FC:

Free cholesterol
FFA:

Free fatty acid
GPAT:

Glycerophosphate acyltransferase
HDL:

High-density lipoprotein
hMSC:

Human mesenchymal stem cell
HSD:

Hydroxysteroid dehydrogenase
HSL:

Hormone sensitive lipase
KO:

Knockout
LD:

Lipid droplet
LPS:

Lipopolysaccharide
lysoPA:

Lysophosphatidic acid
M6PR:

Mannose-6-phosphate receptor
MG:

Monoacylglycerol
MLDP:

Myocardial lipid droplet protein
MLTC:

Mouse Leydig tumor cell
PA:

Phosphatidic acid
PKA:

cAMP-dependent protein kinase
PLIN:

Perilipin
PPAR:

Peroxisome proliferator-activated receptor
RXR:

Retinoid X receptor
TG:

Triacylglycerol
TIP47:

Tail-interacting protein of 47 kDa
WAT:

White adipose tissue
Declarations
Acknowledgements
The authors would like to thank Enago (https://www.enago.jp) for the English language review.
Funding
This work was supported in part by JSPS KAKENHI Grant Numbers JP 19590076, JP 26460077, JP 23790098.
Availability of data and materials
Not applicable.
Competing interests
The authors declare that they have no competing interests.
Authors' contributions
HI contributed to the study concept and design, drawing of the figures, and drafting of the manuscript. TY contributed original view points on the issue and critical revisions of the manuscript. SN and NS supported literature research and critically revised the manuscript. All authors approved the final manuscript.
Consent for publication
Not applicable.
Ethics approval and consent to participate
Not applicable.
Publisher's Note
Springer Nature remains neutral with regard to jurisdictional claims in published maps and institutional affiliations.
Open AccessThis article is distributed under the terms of the Creative Commons Attribution 4.0 International License (http://creativecommons.org/licenses/by/4.0/), which permits unrestricted use, distribution, and reproduction in any medium, provided you give appropriate credit to the original author(s) and the source, provide a link to the Creative Commons license, and indicate if changes were made. The Creative Commons Public Domain Dedication waiver (http://creativecommons.org/publicdomain/zero/1.0/) applies to the data made available in this article, unless otherwise stated.
Authors' Affiliations
(1)
Division of Biological Chemistry, Department of Molecular Biology, Showa University School of Pharmacy, Tokyo, Japan
(2)
Department of Hospital Pharmaceutics, Showa University School of Pharmacy, Tokyo, Japan
(3)
Present address: College of Pharmacy, Kinjo Gakuin University, Nagoya, Japan