Transgenic fat-1 mouse as a model to study the pathophysiology of cardiovascular, neurological and psychiatric disorders
Lipids in Health and Disease
2009
8:61
Received: 10 December 2009
Accepted: 30 December 2009
Published: 30 December 2009
Abstract
Polyunsaturated fatty acids (PUFAs) form an important constituent of all the cell membranes in the body. PUFAs such as arachidonic acid (AA), eicosapentaenoic acid (EPA) and docosahexaenoic acid (DHA) form precursors to both pro-inflammatory and anti-inflammatory compounds. Low-grade systemic inflammation occurs in clinical conditions such as insulin resistance, hypertension, type 2 diabetes mellitus, atherosclerosis, coronary heart disease, lupus, schizophrenia, Alzheimer's disease, and other dementias, cancer and non-alcoholic fatty liver disease (NAFLD) that are also characterized by an alteration in the metabolism of essential fatty acids in the form of excess production of pro-inflammatory eicosanoids and possibly, decreased synthesis and release of anti-inflammatory lipoxins, resolvins, protectins and maresins. We propose that low-grade systemic inflammation observed in these clinical conditions is due to an imbalance in the metabolism of essential fatty acids that is more in favour of pro-inflammatory molecules. In this context, transgenic fat-1 mouse that is designed to convert n-6 to n-3 fatty acids could form an ideal model to study the altered metabolism of essential fatty acids in the above mentioned conditions. It is envisaged that low-grade systemic inflammatory conditions are much less likely in the fat-1 mouse and/or these diseases will run a relatively mild course. Identifying the anti-inflammatory compounds from n-3 fatty acids that suppress low-grade systemic inflammatory conditions and understanding their mechanism(s) of action may lead to newer therapeutic strategies.
Keywords
Schizophrenia
Arachidonic Acid
Essential Fatty Acid
Beneficial Action
Cyclopentenone
Introduction
One traditional approach to modify tissue nutrient composition to study the effects of different diets is by supplementing the experimental groups with different diets consisting of many variations. Although this is an accepted mode of studying the effect of various nutrients and their effects on various physiological processes and pathologic situations, it is difficult to make all the dietary components identical, except the total energy, between two diets and perhaps the single component in which one is interested. The inevitable differences between diets and their components, however small they may be, may confound the study and contribute to inconsistencies or conflicting results observed. This is especially so for studies when one wishes to know the specific actions and functions of ω-3 and ω-6 fatty acids. In general, the effects of ω-3 and ω-6 fatty acids are studied supplementing the experimental groups of animals with different ω-3/ω-6 fatty acid ratios to establish the different fatty acid profiles in the tissues and extrapolate the results so obtained to the observed differences in the indices examined. In these studies, generally, fish oils and plant seed/vegetable oils are used to provide the required ω-3/ω-6 fatty acids respectively. Since these fatty acids are derived from different sources and are likely to contain other bioactive compounds, however minor they might be, are likely to affect the study outcomes. Furthermore, polyunsaturated fatty acids (PUFAs) are highly unstable and susceptible to oxidation. These variables arising from the diet and feeding procedures invariably affect the results.
Conclusions
It is evident from the preceding discussion that EFAs and their metabolites including eicosanoids, LXs, resolvins, protectins and maresins and nitrolipids have many biological actions and are beneficial in the prevention of cardiovascular and neurological/psychiatric disorders. Since transgenic
fat-1
mouse have increased concentrations of EPA and DHA in the brain and other tissues and plasma, we suggest that in this animal model the production of pro-inflammatory cytokines will be low; plasma and tissue concentrations of pro-inflammatory eicosanoids will be low with a simultaneous increase in the formation of anti-inflammatory compound such as lipoxins, protectins, resolvins and maresins; the cell membrane will be highly fluid with decreased HMG-CoA reductase activity and enhanced activity of eNOS; altered expression of genes for SREBPs; decreased
Ras
activity and high concentrations of various BMPs. In addition, we also propose that the expression of uncoupling protein-1 (UCP-1) in the vascular tissue and the expression of adhesion molecules (integrins) will be low and thus, the occurrence of atherosclerosis will be decreased in transgenic
fat-1
mouse. In a recent study, we showed that in
fat-1
transgenic mouse the expression of several genes concerned with inflammation, apoptosis, cell cycle, neurotransmitters, and hormones are altered [
46
] (see Tables
2
and
3
). Thus, in transgenic
fat-1
mouse there will be significant alterations in the concentrations and expression of cytokines, pro-inflammatory eicosanoids, insulin, neurotransmitters, PLA
2
, sphingosine kinase, caspases, farnesoid X receptor, PPARs, SREBPs, HMG-CoA reductase, transforming growth factor, cytokeratins, and nitric oxide synthase ([
15
,
47
–
50
] and see Table
4
) that accounts for the decreased incidence of cardiovascular and neurological and psychiatric disorders (see Figure
3
).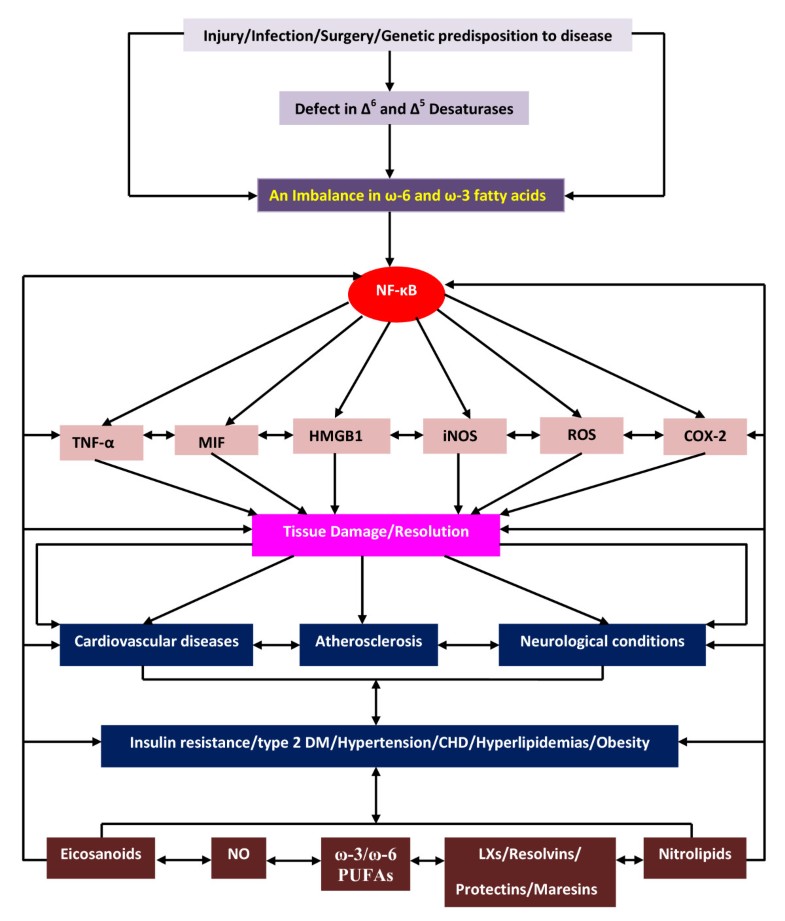 Table 2
Genes whose expression is altered in transgenic fat-1 mouse (see Ref. [46]).
Genes whose expression is down-regulated

Genes whose expression is up-regulated

Stearoyl-Coenzyme A desaturase 2 (Scd2)

Hydroxysteroid dehydrogenase-2, delta<5>-3-beta (Hsd3b2)

Prostaglandin D2 synthase (brain) (Ptgds)

Signal-induced proliferation-associated 1 like 1 (Sipa1l1)

Purkinje cell protein 4 (Pcp4)

Calpain 1 (Capn1)

Heat shock protein 2 (Hspb2)

Chloride channel calcium activated 6 (Clca6)

Apolipoprotein D (Apod)

Dopamine receptor D1 interacting protein (Drd1ip)

Sphingosine kinase 1 (Sphk1), transcript variant 2

Transforming growth factor, beta receptor II (Tgfbr2)

Low density lipoprotein receptor-related protein 1 (Lrp1)

3-hydroxy-3-methylglutaryl-Coenzyme A lyase (Hmgcl)

Lysophosphatidylglycerol acyltransferase 1 (Lpgat1)

Phospholipase A2, group IVE (Pla2g4e)

Dopamine receptor 4 (Drd4)

DnaJ (Hsp40) homolog, subfamily C, member 5 (Dnajc5)

Solute carrier family 32 (GABA vesicular transporter), (Slc32a1)

Basal cell adhesion molecule (Bcam), mRNA

Chemokine (C-C motif) receptor 5 (Ccr5), mRNA

Peroxisomal biogenesis factor 11a (Pex11a)

Heat shock protein 1, beta (Hspcb)

Gamma-aminobutyric acid (GABA-A) receptor, beta 3 (Gabrb3)
Table 3
Proteins that are either upregulated or downregulated in the brain of fat-1 transgenic mouse (see Ref. [46]).
| Down-regulated proteins | Fold change |
| --- | --- |
| Caspase 4 | -1.74 |
| Connexin 32 | -1.71 |
| HSP70 | -1.69 |
| cytokeratin 19 | -1.64 |
| cytokeratin 8.12 | -1.63 |
| TRF1 | -1.59 |
| cdk6 | -1.56 |
| Desmin | -1.54 |
| cytokeratin 13 | -1.48 |
| cytokeratin 7 | -1.46 |
| Calmodulin | -1.46 |
| pan Cytokeratin | -1.45 |
| Nedd8 | -1.43 |
| aCatenin | -1.43 |
| NTF2 | -1.38 |
| Dystrophin | -1.38 |
| Up-regulated proteins | Fold change |
| Phospolipase A2 group V | 1.40 |
| FAK Phospo (pY577) | 1.45 |
| Nicastrin | 1.46 |
| b-NOS | 1.46 |
| CRK-L | 1.47 |
| S-100 | 1.47 |
| SGK | 1.48 |
| Caveolin1 | 1.49 |
| Bcl-xl | 1.50 |
| ARTS | 1.50 |
| i-NOS | 1.51 |
| CAM Kinase IV | 1.52 |
| PTEN | 1.52 |
| PAR4 | 1.52 |
| Neurofilament 200 | 1.54 |
| Gamma Tubulin | 1.56 |
| MAP Kinase(Erk1) | 1.56 |
| Phospolipase c gamma 1 | 1.56 |
| MAPK activated protein kinase-2 | 1.56 |
| EGF receptor | 1.58 |
| MAP Kinase activated phospotyrosine | 1.58 |
| ERK5 | 1.58 |
| Protein phosphatase 1 | 1.60 |
| p35 | 1.60 |
| PAK phospo (Ps212) | 1.60 |
| PKC alfa | 1.62 |
| PKD | 1.62 |
| Glutamate receptor NMDAR 2a | 1.63 |
| S-100 beta | 1.63 |
| Protein phosphatase 1 | 1.64 |
| FAK Phospo (pS772) | 1.65 |
| DOPA Decarboxylase | 1.66 |
| PKC gamma | 1.66 |
| NFKB | 1.67 |
| JNK activated diphospo | 1.69 |
| Tau Phospho (pS199/202) | 1.79 |
| Synuclein monoclonal | 1.79 |
| Estrogen Receptor | 1.81 |
| GRB-2 | 1.95 |
| MAP Kinase activated phospothreonine | 1.98 |
Table 4
Proposed differences between the wild type and Fat-1 mouse.
| Parameter | Wild type | Fat-1 mouse |
| --- | --- | --- |
| Cell membrane Fluidity | ↔ | More fluid |
| Endothelial NO | ↔ | ↑ |
| IL-6, TNF-α, IL-1, IL-2, | ↔ | ↓ |
| MIF, HMGB1 | ↔ | ↓ |
| IL-4, IL-10 | ↔ | ↑ |
| HMG-CoA reductase activity | ↔ | ↓ |
| Plasma and tissue levels of EPA/DHA | ↔ | ↑ |
| Plasma and tissue levels of lipoxins, resolvins, | ↓ | ↑ |
| protectins and maresins | ↓ | ↑ |
| PGE1/PGI2/PGI3 | ↔ | ↑ |
| Ras activity | ↔ | ↓ |
| BMPs | ↔ | ↑ |
| UCP-1 | ↔ | ↓ |
| Expression of Adhesion Molecules | ↔ | ↓ |
| PPARs | ↔ | ↑ |
| Inflammatory diseases* | common | Uncommon/less severe |
| Blood pressure | Normal | ↓ |
| Type 1 and Type 2 diabetes | common | Uncommon/less severe |
| CHD | common | Uncommon/less severe |
In addition, recent studies showed that DHA yields an array of potentially bioactive lipid compounds such as cyclopentenone isoprostanes and cyclopentenone neuroprostanes (A(4)/J(4)-NPs), which are highly reactive and similar in structure to anti-inflammatory cyclopentenone prostaglandins. The synthetic A(4)/J(4)-NP, 14-A(4)-NP (A(4)-NP), potently suppressed lipopolysaccharide-induced expression of inducible nitric-oxide synthase, cyclooxygenase-2, NF-kappaB activation via inhibition of Ikappa kinase-mediated phosphorylation of IkappaBalpha in macrophages. The effects of A(4)-NP were found to be independent of peroxisome proliferator-activated receptor-γ (PPAR-γ) and were dependent on an intact reactive cyclopentenone ring. Paradoxically, free radical-mediated oxidation of DHA greatly enhanced its anti-inflammatory potency, an effect that closely parallels the formation of A(4)/J(4)-NPs. Furthermore, chemical reduction or conjugation to glutathione, both of which eliminate the bioactivity of A(4)-NP, also abrogated the anti-inflammatory effects of oxidized DHA. Thus, A(4)/J(4)-NPs, formed via the oxidation of DHA, are potent inhibitors of NF-kappaB signaling and contribute to the anti-inflammatory actions of DHA [51, 52], suggesting that the anti-inflammatory properties of ω-3 fatty acids are closely associated and dependent on the novel interactions between lipid peroxidation products and inflammation. It is interesting to note that cyclopentenone isoprostanes (IsoPs), highly reactive structural isomers of the bioactive cyclopentenone prostaglandins PGA2 and PGJ2, are formed non-enzymatically as products of oxidative stress in vivo and 15-A2-IsoPs induced oxidative stress to inhibit the NF-kappaB pathway at least partially via a redox-dependent mechanism. 15-J2-IsoP induced RAW cell apoptosis again via a PPAR-γ-independent mechanism. These findings suggest that oxidative stress is beneficial at times by inducing the formation of cyclopentenone IsoPs that may serve as negative feedback regulators of inflammation [52, 53].
It may be mentioned here that the beneficial actions of DHA and EPA in neurological conditions described above is not without controversy. For instance, Bate et al [54, 55] reported that pre-treatment with DHA or EPA significantly reduced the survival of cortical or cerebellar neurons incubated with HuPrP82-146, a peptide derived from the prion protein, or with Abeta 1-42, a peptide found in Alzheimer's disease. They noted that treatment with DHA or EPA reduced the free cholesterol content of neuronal membranes that increased the kinetics of incorporation. In untreated neurons, FITC-HuPrP82-146 migrated to caveolin-1 containing lipid rafts, triggered the migration of cytoplasmic phospholipase A2 (cPLA2) into caveolin-1 containing rafts, and increased prostaglandin E2 production. They also observed that the activation of cPLA2 and prostaglandin E2 production were both increased in neurons pre-treated with DHA, suggesting that DHA or EPA alter cell membrane fluidity that could result in increased amounts of HuPrP82-146 localizing to caveolin-1 containing rafts, increased activation of cPLA2, prostaglandin E2 production, caspase-3 activity and reduced neuronal survival. These observations indicate that under some specific conditions ω-3 fatty acids EPA and DHA may actually accelerate neuronal loss in the terminal stages of prion or Alzheimer's diseases. This study suggests that further studies are needed to understand the close interaction between ω-3 fatty acids and free radicals and the series of products formed and the exact sequence of formation of various anti- and pro-inflammatory products that ultimately determine the neuronal loss or their growth. It is possible that under low oxidative stress conditions beneficial products such as lipoxins, resolvins, protectins, maresins, isoprostanes and A(4)/J(4)-NPs are formed and under excessive oxidative stress conditions cPLA2 is activated leading to the formation of PGE2 leading to neuronal loss (see Figure 2).
Declarations
Acknowledgements
UND is in receipt of Ramalingaswami Fellowship of the Department of Biotechnology, India during the tenure of this study.
Authors' Affiliations
(1)
Jawaharlal Nehru Technological University, Kakinada, India
(2)
Functional Genomics Laboratory, Biological Research Center of the Hungarian Academy of Sciences, Szeged, Hungary
(3)
UND Life Sciences, Shaker Heights, USA
Copyright
© Das and Puskás; licensee BioMed Central Ltd. 2009
This article is published under license to BioMed Central Ltd. This is an Open Access article distributed under the terms of the Creative Commons Attribution License (http://creativecommons.org/licenses/by/2.0), which permits unrestricted use, distribution, and reproduction in any medium, provided the original work is properly cited.