Endothelial Dysfunction in the Apolipoprotein E-deficient Mouse: insights into the influence of diet, gender and aging
Lipids in Health and Disease
2011
10:211
Received: 22 October 2011
Accepted: 14 November 2011
Published: 14 November 2011
Abstract
Since the early 1990s, several strains of genetically modified mice have been developed as models for experimental atherosclerosis. Among the available models, the apolipoprotein E-deficient (apoE-/-) mouse is of particular relevance because of its propensity to spontaneously develop hypercholesterolemia and atherosclerotic lesions that are similar to those found in humans, even when the mice are fed a chow diet. The main purpose of this review is to highlight the key achievements that have contributed to elucidating the mechanisms pertaining to vascular dysfunction in the apoE-/- mouse. First, we summarize lipoproteins and atherosclerosis phenotypes in the apoE-/- mouse, and then we briefly discuss controversial evidence relative to the influence of gender on the development of atherosclerosis in this murine model. Second, we discuss the main mechanisms underlying the endothelial dysfunction of conducting vessels and resistance vessels and examine how this vascular defect can be influenced by diet, aging and gender in the apoE-/- mouse.
Keywords
apoEhypercholesterolemiaatherosclerosisendothelial dysfunctionoxidative stressgender
Background
Because mice are easily bred, have a short generation time and because of the availability of inbred strains, many of which have interesting heritable phenotypes, they are ideal models for the study of genetic contributions to disease [1]. The major disadvantage of the mouse model is its small size, which makes it relatively difficult to perform neural and hemodynamic measurements; however, in our and other laboratories the limitations of the mouse have been overcome through advances in surgical techniques (e.g., vascular catheterization and nerve recording) and in diagnostic imaging methods.
Due to the progressive advancement of molecular biology techniques, it is possible to knockout and restore endogenous genes or to add exogenous genes into the mouse allowing the development of mouse models for human diseases [2–8]. In this brief review, we focus on the apolipoprotein E-deficient (apoE-/-) mouse, which is considered the best available model for human lipoprotein disorders and atherosclerosis [9, 10]. Specifically, we discuss the main mechanisms underlying endothelial dysfunction in the apoE-/- mouse and examine how this vascular defect can be influenced by diet, aging and gender.
Lipoproteins and Atherosclerosis Phenotypes
Murine plasma lipid profiles
The lipid profiles of mice and humans differ greatly. Humans carry approximately 75% of their total plasma cholesterol (PC) on the atherogenic low-density lipoprotein (LDL). Mice naturally carry most of their PC on the antiatherogenic high-density lipoprotein (HDL, ~70 mg/dL) [1, 3, 11, 12]. Normal mice have total PC levels of approximately 80 mg/dL and are highly resistant to atherosclerotic lesions. An exception is the C57BL/6J (C57) mouse strain when it is challenged with a special atherogenic diet [3, 13, 14]. Interestingly, in this mouse strain, males and females that are fed a diet of normal chow do not differ in their HDL-lipid levels, but females demonstrate a drop (~50%) in their HDL levels when fed an atherogenic diet. Males appear to maintain high HDL levels due to their secretion of testosterone [14]. Thus, for the analysis of lipid metabolism and atherosclerosis in mouse models, diet and gender should be taken into account.
Plasma lipid profiles and atherosclerosis in the apolipoprotein E-deficient mouse
In 1992, two different groups simultaneously created the first gene-targeted murine model of atherosclerosis by disrupting the antiatherogenic apolipoprotein E (apoE) gene that is involved in cholesterol metabolism [2, 3]. The inactivation of the apoE gene is achieved by homologous recombination in mouse embryonic stem cells, usually in a C57 genetic background, to produce apolipoprotein E-deficient (apoE-/-) or knockout (apoE KO) mouse. The apoE-/- mouse is the most widely used of the available murine models, and it was the first model to develop vascular lesions that are similar to those observed in humans. ApoE is a glycoprotein with a molecular weight of approximately 34 kDa, which is synthesized in the liver, brain and in macrophages and it is a constituent of chylomicrons and their remnants, very-low-density lipoproteins (VLDL), intermediate-density lipoproteins (IDL) and HDL. ApoE plays a major physiological role in lipoprotein metabolism, and it mediates the high-affinity binding of apoE-containing lipoproteins to the cell-surface LDL receptor and the chylomicron-remnant receptor; therefore, it is an important mediator of the transport and hepatic metabolic clearance of circulating cholesterol [1, 3, 11, 15]. In C57 mice fed a chow diet, values of PC, triglycerides (TG), VLDL+IDL, LDL and HDL levels are approximately 60, 65, 20, 10 and 50 mg/dL, respectively [3, 11, 16, 17]. In the homozygous apoE mutant mouse that is fed a chow diet, there is a shift in plasma lipoproteins from HDL to predominantly VLDL and chylomicron remnant fractions, i.e., most of the PC is in atherogenic lipoprotein fractions. Thus, on a chow diet, apoE-/- mice have increased total PC (~8-fold), TG (1.7-fold), VLDL+IDL (18-fold) and LDL (14-fold), but similar or decreased HDL at all ages [3, 11, 16–21]. When fed a Western-type diet, a dramatic increase in the proportions of these lipids is observed in total PC (~14-fold) and particularly in the VLDL+IDL lipoprotein fraction (~30-fold) [3, 19, 20, 22–24]. When fed a normal diet apoE-/- mice exhibit monocyte attachment to endothelial cells and a disruption of the subendothelial elastic lamina at 6-8 weeks of age, lesions containing foam cells and smooth muscle cells are seen at 8-10 weeks of age, and fibrous plaques appear at 15-20 weeks of age [3, 25]. At ~70 weeks-old, apoE-/- mice exhibit over 90% occlusion of the aortic lumen, and a similar percentage of occlusion is observed at 32 weeks when the animals are fed a Western-type diet [26]. Sites of predilection include the aortic root, aortic arch, common carotid, superior mesenteric, renal and pulmonary arteries [25, 27]. Thus, similar to humans, apoE-/- mice display increased levels of total PC and extensive lipid deposition in the major large arteries, which is accelerated and aggravated when they are fed a Western-type diet, suggesting a similarity with humans.
The influence of gender on atherosclerosis
The influence of gender on atherosclerosis and the protective effect of estrogen are controversial. The majority of studies show that during their reproductive years, women are less prone to developing cardiovascular diseases and atherosclerosis than men, but men and post-menopausal women at comparable ages are at an equal risk for developing the disease as, as recently reviewed [
28
]. Consequently, cardiovascular diseases in women develop, on average, 10 years later than they do in men. In mice, large number of studies using apoE
-/-
or LDL receptor-knockout mice have demonstrated an atheroprotective role for endogenous estrogen and estrogen replacement in females (reviewed 5 years ago [
29
]). However, after that time, emerged convincing evidence suggests that atherosclerotic lesions in apoE
-/-
mice are greater in females than in males, and the reasons for this discrepancy are not clear. Therefore, the influence of gender on atherosclerosis in the apoE
-/-
mouse is still under debate. For example, Tangirala et al. [
30
] showed that in LDL receptor-deficient mice, the incidence of atherosclerotic lesions in the aorta was significantly higher in males than in females. However, in apoE
-/-
mice (mixed C57 × 129ola genetic background) fed a Western-type diet for 6 months (starting at 5-6 months old), they observed only a trend towards increased lesions in males compared to females (not significant). Similarly, Coleman et al. [
26
] did not encounter clear-cut gender differences in the histopathology of aortic arch atherosclerosis in 6- to 80-week-old apoE
-/-
mice (C57 genetic background) fed a standard chow diet. In addition, Elhage et al. [
31
] showed that although the total PC was higher in males than in females in apoE
-/-
mice (C57 × 129/B6 genetic background) fed a chow diet, there was no statistical significance in the fatty streak areas between genders. In contrast, a recent study by Chiba et al. [
32
] showed that in apoE
-/-
mice (C57 genetic background) fed an atherogenic diet for 16 weeks, starting at 10 weeks of age, there were significant less atherosclerotic lesions in females than in males and greater in ovariectomized than in sham animals, without differences in serum lipoproteins between genders. The protective influence of female hormones against atherosclerosis in the apoE
-/-
mouse is corroborated by the findings that estrogen administered to apoE
-/-
mice (C57 × 129ola genetic background) prevented fatty streak formation in female and male mice fed a chow diet [
31
] and reduced atherosclerotic lesion development in mice fed a Western-type diet [
33
]. In contrast, there is a growing body of convincing evidence against the atheroprotective effects of estrogen. For example, tamoxifen, which exhibits tissue-specific estrogen receptor agonist/antagonist activities and has been shown to act as a cardioprotective agent in postmenopausal women [
34
], decreased cholesterol levels by 7-fold and abolished lipid lesion development in apoE
-/-
mice that received this therapy repeatedly [
35
]. In agreement with these observations, Caligiuri et al. [
36
] observed that in apoE
-/-
mice (C57 genetic background) fed a normal chow diet, young female mice developed larger and more advanced atherosclerotic lesions compared with young male mice. The data from this latter study suggest that differences in atherosclerotic lesions between genders may be related to differences in the cellular immune responses to the atherosclerotic-related autoantigen, oxidized LDL (oxLDL), in the different sexes [
36
]. The presence of apoA in the HDL may also be a sex-related determinant for receptor interactions and this may be of pathophysiological importance in atherosclerosis. Indeed, compared to male apoE
-/-
mice, female apoE
-/-
mice have lower plasma levels of apoA-I and apoA-II [
21
]. Moreover, it has been reported that in female mice, HDL and apoA-I are negatively associated with aortic atherosclerotic lesions, while the association with apoA-II was positive. In contrast, in males no significant associations were observed [
21
], indicating that changes in HDL and apoA are important determinants of atherosclerosis in females but not in males. Accordingly, in apoE
-/-
mice, fed a standard chow diet [
21
,
36
] or a Western-type diet [
5
,
24
], females exhibit areas of larger vascular atherosclerotic lesions than males (see Figure
1
). In a study it was also demonstrated that the elevated production of thromboxane (TXA
2
) and the reduced production of prostacyclin (PGI
2
) observed in female apoE
-/-
mice (Figure
2
) are gender-related proatherogenic risk factors in these animals [
24
]. Caligiuri et al. [
36
] showed that vascular atherosclerotic lesions were larger and more advanced in young (16-week-old) female apoE
-/-
mice compared to male apoE
-/-
mice, but in aged (48-week-old) animals, when the blood levels of estrogen decreased in females, there was no longer a sex difference in lesion size [
36
]. These data suggest that age- and sex-dependent variations of cell-mediated immune responses modulate the onset and progression of atherosclerosis. In support of these findings, a recent study showed that in apoE
-/-
mice, atherosclerosis was reduced following ovariectomy and was aggravated following treatment with 17-β-estradiol at doses that were similar to physiological levels of the hormone [
37
]. In view of these findings, the apoE
-/-
mouse model allows the investigation of the detrimental effects of 17-β-estradiol on atherosclerosis and contributes to clinical studies that reveal the unfavorable effects of hormone replacement therapy in postmenopausal women. Although the influence of female gender on atherosclerosis is still controversial and more research is needed to understand fully the role played by estrogens in atherosclerotic lesion in the apoE
-/-
mouse, there is convincing evidence that at a young age and on a normal chow diet, females develop greater atherosclerotic lesions than males. Indeed, the above study reporting greater atherosclerotic lesions in males than in females, the animals were 26-week-old and fed an atherogenic diet [
32
], whereas in the study reporting the opposite observation, the animals were younger and fed a regular chow diet and significant differences between the genders in the older animals were not observed [
36
]. In agreement with these observations, Maeda et al. [
38
] showed that atherosclerotic lesions at the aortic roots of apoE
-/-
mice (C57 genetic background) fed a regular chow diet developed plaques earlier in the females than in the males. Taken together, the above studies highlight the importance of considering sex in the analysis of atherosclerosis and lipid metabolism in the apoE
-/-
mouse model, and they fuel the debate on the effects of estrogen on atherosclerosis in murine models.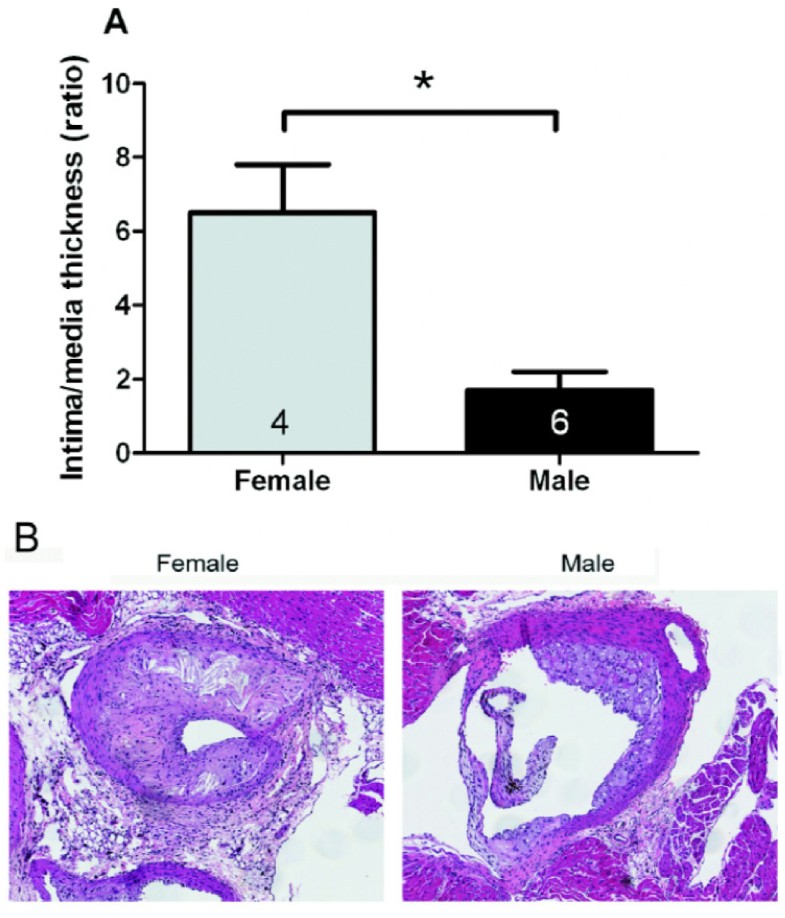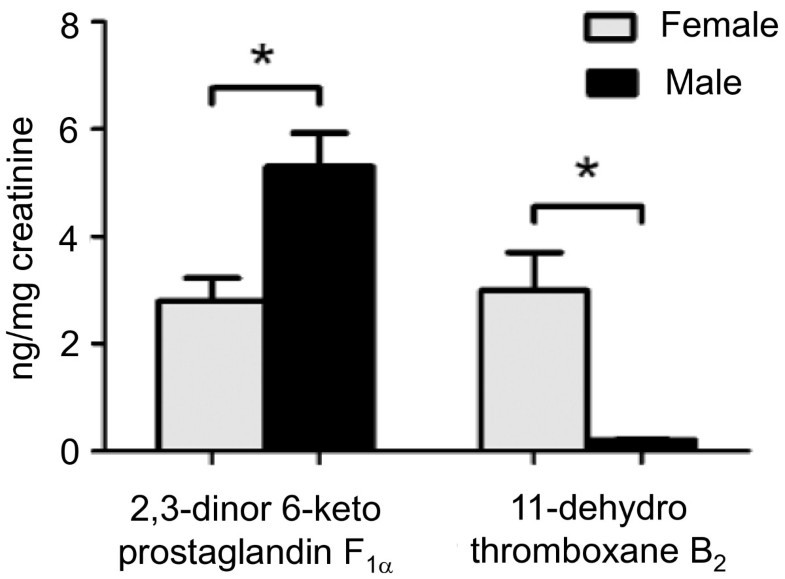 Therefore, the deletion of the single apoE gene, which results in severe hypercholesterolemia, is sufficient to convert the mouse from a species that is highly resistant to atherosclerosis to one that is highly susceptible to the disease [2, 3, 11]. The characterization of the morphology, histology, pathology and mechanisms (but not gender) involved in the development of vascular atherosclerotic lesions in this murine model of atherosclerosis has been broadly studied for two decades and has been previously reviewed [1, 9, 10]. However, the vascular endothelial dysfunction in the apoE-/- mouse has not been fully elucidated, and the main purpose of this brief review is to summarize and discuss the mechanisms underlying this vascular defect and to address the influence of diet, aging and gender.
Endothelial Function in Physiological Conditions
Assessment of endothelial function and the role of nitric oxide (NO)
The general aspects of endothelial function and atherosclerosis have been reviewed previously [
39
–
41
], and are summarized here. The vascular endothelium regulates vascular tone and structure in conductance and resistance vessels through a continuous release of a variety of autocrine and paracrine vasoactive mediators such as nitric oxide (NO), reactive oxygen species (ROS), endothelin-1 (ET-1), angiotensin (Ang) II, endothelium-derived hyperpolarizing factor (EDHF), prostacyclin (PGI
2
) and epoxyeicosatrienoic acids (EET). Importantly, the position of the endothelium in the vessel wall makes it a primary target for injuries. As shown in the schematic representation in Figure
3
, shear stress and acetylcholine (ACh), which is commonly used to asses endothelial function, and receptor-specific agonists, such as bradykinin, thrombin and serotonin, causes increase in intracellular Ca
++
levels. This increase in Ca
++
activates endothelial NO synthase (eNOS), which acts on L-arginine (L-arg) resulting in the production of NO. This reaction requires the participation of cofactors, such as tetrahydrobiopterin (BH
4
) and NADPH, which are critical for coupling the reduction of molecular oxygen (O
2
) and the oxidation of L-arg, resulting in the production of NO and L-citrulline [
42
–
45
]. NO diffuses to the underlying vascular smooth muscle cells (VSMC), where it activates soluble guanylyl cyclase (sGC) to produce cyclic guanosine monophosphate (cGMP) from guanosine triphosphate (GTP), and induces a decrease in Ca
++
followed by VSMC relaxation.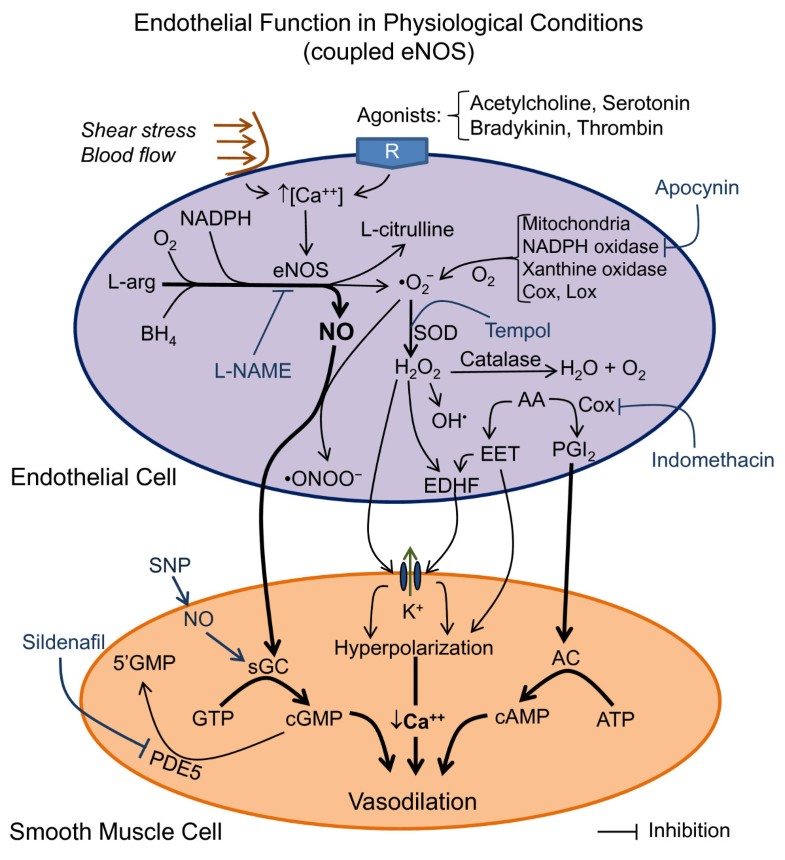 Endothelial generation of reactive oxygen species (ROS) and other vasoactive mediators
As illustrated in Figure 3, this reaction of the endothelial cell involving the L-arg-eNOS system also generates ROS, including the free radicals (unpaired electrons) superoxide anions (•O2-), peroxynitrite (•ONOO-), and hydroxyl radicals (OH•O) and non-radicals, such as hydrogen peroxide (H2O2), that are involved in diverse cardiovascular diseases [46–50]. Briefly, •O2- reacts extremely rapid with NO generating •ONOO-. Superoxide anions are also rapidly scavenged by the antioxidant enzyme SOD, thus protecting NO and generating H2O2. Under physiological conditions, this interaction is minimized by endogenous antioxidant defenses, such as SOD, and the low levels of ROS act as signals to modulate proliferation, apoptosis and gene expression through the activation of transcription factors. ROSs are produced by all vascular cell types, and have been implicated in the regulation of vascular tone by modulating vasodilation directly or indirectly by decreasing NO bioavailability through quenching by •O2- to form •ONOO-, which is a short-lived species that impairs endothelial function. In contrast, high concentrations and/or the inadequate removal of ROS, especially •O2-, results in oxidative stress, which has been implicated in the pathogenesis of many cardiovascular diseases including hypercholesterolemia and atherosclerosis.
Endothelium releases other potent vasodilator substances, such as PGI2, an eicosanoid of the cyclooxygenases pathway. The activities of PGI2 include the activation of adenylate cyclase (AC) in VSMCs, which results in the generation of 3'-5'-cyclic adenosine monophosphate (cAMP), causing a relaxation of the VSMC in most blood vessels. An additional relaxant pathway acts through the release of EDHF that diffuses to and activates VSMC potassium channels, causing hyperpolarization [47]. Reliable data [47–49], indicate that H2O2 derived from the dismutation of •O2- may act as an EDHF because it elicits hyperpolarization and vasodilation by activating VSMC potassium channels. In large vessels, H2O2-induced relaxation can be endothelium-independent and endothelium-dependent, as indicated by the observation that the eNOS inhibitor L-nitroarginine methylester (L-NAME) abolishes this effect [51, 52]. The vasodilator activity of H2O2 also affects mesenteric and coronary arteries, and in coronary arteries, it has been shown to involve COX-1 and the VSMC potassium channel [53, 54]. Therefore, there are substantial data indicating that the four main mediators of endothelial vasodilator function, NO, H2O2, PGI2 and EDHF, interact in a coordinated manner to maintain normal endothelial function [55, 56]. In terms of relative importance, studies [51, 52, 54] show that NO is the predominant endothelium-derived vasodilator in large arteries, whereas in resistance vessels of the microcirculation EDHF predominates over other agents. The impairment of vascular function, which is associated with several cardiovascular events and atherosclerosis, has typically been characterized by one or more of the following responses: decreased endothelium-dependent vascular relaxations, decreased endothelium-independent vascular relaxations, and/or increased vasoconstrictions [57–60].
Endothelial Function and Dysfunction in the ApoE-/- Mouse
Conclusion
Since its creation two decades ago, the apoE
-/-
mouse, which spontaneously develops hypercholesterolemia and vascular atherosclerotic lesions even when fed a regular chow diet, has provided us with excellent opportunities for investigating the role of apoE in lipid metabolism and to the disease process of atherosclerosis. In this review, we show that the influence of gender on the development of atherosclerotic lesions is controversial, but evidence of the detrimental effects of estrogen on atherosclerosis has emerged during the last decade. Thus, the influence of female gender, associated with age and type of diet, on atherosclerotic lesions and endothelial dysfunction in the apoE
-/-
mouse are expected to be subject of intense research. Several studies provide unquestionable evidence of endothelial dysfunction in conducting and resistance vessels in the apoE
-/-
mouse. Most of these studies show that at the early stages of the disease, aortas retain their normal endothelial function but at the later stages of the disease and when mice are fed a Western-type diet, conducting vessels exhibit focal (plaque related) impairment of endothelial NO-mediated dilation. The dysfunction of the large vessels in this murine model is mainly a result of the reduced bioavailability of NO due to decreased eNOS activity and/or the chemical inactivation of NO by •O
2
-
, and the activation of the ET-1 system. In resistance vessels, the major contribution to the endothelial dysfunction appears to be an increase in NADPH oxidase-derived •O
2
-
, EDHF and ET-1. Despite the lack of studies focusing specifically on the influence of gender on endothelial dysfunction in apoE
-/-
mice, there is some evidence that endothelial dysfunction in both conducting and resistance vessels is influenced by gender, aging and a Western-type diet. Scheme in Figure
10
summarizes the main lipid abnormalities and their consequence to atherosclerosis and to abnormal vascular responsiveness mediated through a NO/ROS imbalance in the apoE
-/-
mouse. From a clinical perspective, as the mechanisms involved in the vascular reduction in NO bioavailability and the excessive production of ROS become clear, more specific therapies to prevent this defect will be developed that will ultimately lead to the correction of endothelial dysfunction. In particular, studies investigating the use of cell therapy to restore vascular function constitute a promising avenue of research.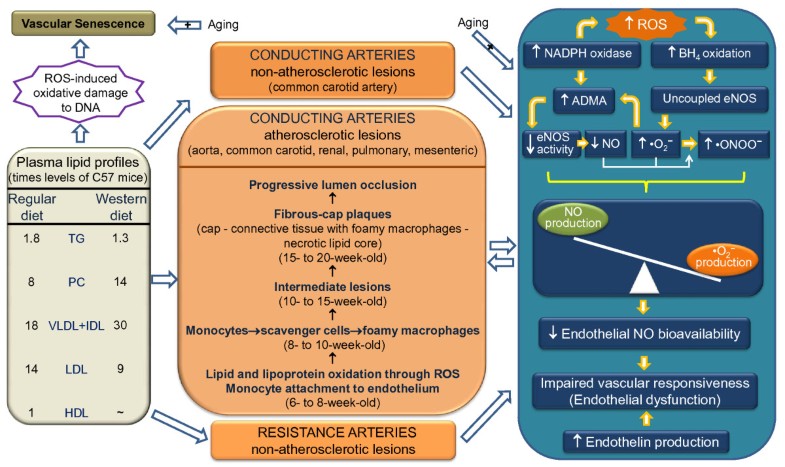 Declarations
Acknowledgements
ECV and SSM are supported by the National Council for the Development of Science and Technology (CNPq, Ref. 302113/2008-8 and 302535/2009-8 Grants) and the State Agency for the Development of Science and Technology (FAPES, Ref. FAPES/PRONEX 012/2009). The critical comments from Mark W. Chapleau (The University of Iowa) to the schematic representation of the mechanisms underlying endothelial dysfunction are much appreciated.
Authors' Affiliations
(1)
Departament of Physiological Sciences, Health Sciences Center, Federal University of Espirito Santo, Vitoria, Brazil
(2)
The University of Iowa, Iowa City, USA
(3)
Federal Institute of Education, Science and Technology (IFES), Vila Velha, Brazil
(4)
Emescam School of Health Sciences, Vitoria, Brazil
Copyright
© Meyrelles et al; licensee BioMed Central Ltd. 2011
This article is published under license to BioMed Central Ltd. This is an Open Access article distributed under the terms of the Creative Commons Attribution License (http://creativecommons.org/licenses/by/2.0), which permits unrestricted use, distribution, and reproduction in any medium, provided the original work is properly cited.