Health effects of dietary phospholipids
Lipids in Health and Disease
2012
11:3
Received: 22 November 2011
Accepted: 5 January 2012
Published: 5 January 2012
Abstract
Beneficial effects of dietary phospholipids (PLs) have been mentioned since the early 1900's in relation to different illnesses and symptoms, e.g. coronary heart disease, inflammation or cancer. This article gives a summary of the most common therapeutic uses of dietary PLs to provide an overview of their approved and proposed benefits; and to identify further investigational needs.
From the majority of the studies it became evident that dietary PLs have a positive impact in several diseases, apparently without severe side effects. Furthermore, they were shown to reduce side effects of some drugs. Both effects can partially be explained by the fact that PL are highly effective in delivering their fatty acid (FA) residues for incorporation into the membranes of cells involved in different diseases, e.g. immune or cancer cells. The altered membrane composition is assumed to have effects on the activity of membrane proteins (e.g. receptors) by affecting the microstructure of membranes and, therefore, the characteristics of the cellular membrane, e.g. of lipid rafts, or by influencing the biosynthesis of FA derived lipid second messengers. However, since the FAs originally bound to the applied PLs are increased in the cellular membrane after their consumption or supplementation, the FA composition of the PL and thus the type of PL is crucial for its effect. Here, we have reviewed the effects of PL from soy, egg yolk, milk and marine sources. Most studies have been performed in vitro or in animals and only limited evidence is available for the benefit of PL supplementation in humans. More research is needed to understand the impact of PL supplementation and confirm its health benefits.
Keywords
Phospholipidglycerophospholipidtherapyplasma membrane
Introduction
Phospholipids (PLs) are amphiphilic lipids found in all plant and animal cell membranes, arranged as lipid bilayers (Figure
1
). The PLs found in most cell membranes are basically glycerophospholipids (GPLs), which consist of fatty acids (FAs) esterified to a glycerol backbone, a phosphate group and a hydrophilic residue (e.g. choline, resulting in phosphatidylcholine or lecithin). The backbone of a PL can also be the long chain amino-alcohol sphingosin instead of glycerol. These PL are classified as sphingophospholipids, the most representative being sphingomyelin, found in high quantities in brain and neural tissue, consisting of sphingosin esterified to one FA and phosphocholine.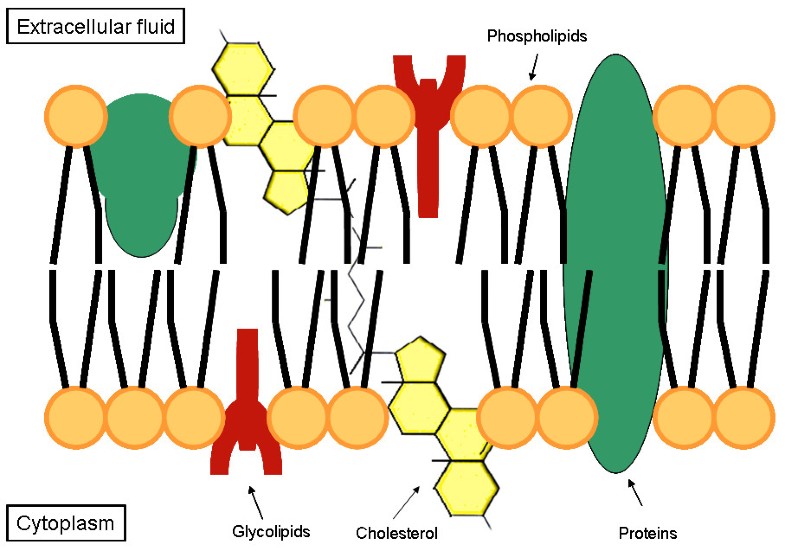 Figure 1 shows a simplified illustration of a typical eukaryotic cellular plasma membrane. Besides glycerophospholipids (GPLs) and sphingomyelin (SPM), biological membranes are also made up of glycolipids and cholesterol, as well as of integral and peripheral membrane proteins. Most of the GPLs arrange themselves forming a lipid bilayer, in which the polar (hydrophilic) regions of the PL are directed towards the outer surface of the membranes and the hydrophobic regions towards the inner membrane compartment.
GPLs extracted from food products (e.g. soybeans, egg yolk, milk, or marine organisms like fish, roe or krill) are defined as "dietary GPLs". They can be ingested either with normal diet or as supplements. Naturally occurring GPLs, either from plant or animal origin, predominantly contain an unsaturated FA in the sn-2 position1, such as oleic, linoleic or linolenic acid, or the proinflammatory arachidonic acid (usually from animal origin) or the anti-inflammatory eicosapentaenoic acid (usually from marine origin), while the sn-1 position predominantly carries a saturated FA, such as stearic acid or palmitic acid.
The mean dietary intake of GPLs is not exactly known. In a normal diet, the daily intake of PC is approximately 2-8 grams [1]. Foods with a high PC content are e.g. egg yolk, pig or chicken liver, soybeans and beef.
In the intestine, GPLs are almost completely absorbed (> 90%). In the lumen most of them are hydrolysed at the sn-2 position by the pancreatic phospholipase A2 (pPLA2) and then taken up by the enterocytes as free fatty acids (FFAs) and lysoPL. Both can be reesterified to GPLs and enter the bloodstream incorporated in chylomicrons and, in a small proportion, in very low density lipoproteins (VLDL). However, it has been assumed that almost 20% of intestinal PLs are absorbed passively and without hydrolysation [2], and preferentially incorporated directly into high density lipoproteins (HDL). From HDL, GPLs can be transferred into the plasma membranes of numerous cells (e.g. liver, muscle, kidneys, lung, tumor cells, etc.) as their corresponding lyso-form after enzymatic activity of the lecithin-cholesterol-acyl-tranferase (LCAT) [3]. This mechanism is complex and has not yet been completely elucidated, but it has been shown that dietary GPLs are able to deliver their FAs for incorporation into cellular membranes, thus altering the membrane composition of the cells [4].
Since GPLs are the main PL class found in cell membranes, their FA composition has a major impact on membrane characteristics, for example membrane fluidity and therefore formation of lipid rafts. Lipid rafts are dynamic membrane micro-domains with a high content of cholesterol and PLs predominantly carrying saturated FAs and have been involved in apoptosis and cellular proliferation [5]. These micro-domains are in charge of organising and regulating important cellular functions. An important example is the lipid raft dependent trimerisation of Fas-receptor (CD95), pivotal for the induction of apoptosis after Fas-binding. Furthermore, PLs play an important role in providing unsaturated FAs as precursors for eicosanoid synthesis. The origins of the FA, therefore their chain length and degree of saturation, contribute to the biological properties of the synthesized eicosanoids. Depending on which PL-bound FAs are available in the cell membrane, different types of eicosanoids are synthesized (e.g. the proinflammatory PGE2 synthesized from arachidonic acid and the predominantly anti-inflammatory PGE3 from eicosapentaenoic acid) [6].
In summary, the oral application of dietary GPLs with a specific FA composition has the potential to cause defined alterations of the FA composition of membrane PLs within a certain cell type. As a consequence, cellular functions, including signaling and transport, as well as the activity of membrane bound enzymes, could be modulated by dietary PLs and hence contribute to the health benefits described throughout this review article.
Different types of dietary GPLs vary in their FA-composition and headgroup, and therefore may have different effects. Table
1
provides an overview of the regular composition of dietary GPLs; and table
2
provides a selection of PL products used as supplements in the published papers included in this review.
Table 1
Important dietary glycerophospholipids (GPLs): PL and FA composition
Soybean GPL *

Egg yolk GPL*

Milk GPL *

Marine GPL *

PL's +

PC

10-15% [111]

65-70% [111]

26% [110]

87.5%§

PE

9-12% [111]

9-13% [111]

30% [110]

5.8%§

PI

8-10% [111]

--

9% [110]

2.2%§

PS

1-2% [111]

--

--

--

SPM

--

2-3% [111]

22% [110]

3.4%§

Unsaturated Fatty acids

Total

75.5% [111]

54% [111]

28% [M.S. unpublished Data]

84.3%§

Oleic

10.7% [111]

32.3% [111]

20% [M.S. unpublished Data]

29.2%§

Linoleic

58% [111]

16.7% [111]

2.2% [M.S. unpublished Data]

2.5%§

Linolenic

6.8% [111]

--

0.5% [M.S. unpublished Data]

2.7% [L.T. unpublished Data]

Arachidonic

--

5% [111]

0.1% [M.S. unpublished Data]

1.9% [L.T. unpublished Data]

eicosapentaenoic

--

--

--

18.8%§

docosahexaenoic

--

--

--

22.8%§

other

--

--

5% [M.S. unpublished Data]

--

Saturated

Fatty Acids

Total

22.4% [111]

46% [111]

68.7% [M.S. unpublished Data]

15.6%§

Palmitic

18.4% [111]

37% [111]

31.8% [M.S. unpublished Data]

14.1% [L.T. unpublished Data]

Stearic

4% [111]

9% [111]

15% [M.S. unpublished Data]

2.9% [L.T. unpublished Data]

other

--

--

C4:0 to C14:0 24.1% [M.S. unpublished Data]

--
Table 2
Selected examples of dietary glycerophospholipids (GPLs) used as supplements in the mentioned studies
Brand name/Product name

Product information given by the producer/publication

Dietary GPLs from soybean

Essentiale®

80% PC, other ingredients: soybean oil, castor oil, ethanol, ethylvanillin, methoxyacetophenon, food colourings, gelatine, tocopherol and water; as capsules. Nattermann & Cie. GmbH

Essentiale L® or Buer® Lecithin

Soybean GPL (purity unknown), other ingredients: riboflavin, phosphate sodium, pyridoxine hydrochloride, cyanocobalamin, sodium panthotenate and nicotinamide; as capsules.

Nicholas Piramal India Ltd. Or Nycomed Germany GmbH

Lipoid S45®

45-50% soybean PC, 10-18% PE, max. 4% LysoPC. Typical FA composition: 58-65% linoleic acid, 12-17% palmitic acid, 8-12% oleic acid and other FAs; as powdered compound.

Lipoid GmbH

Lipostabil®

93% PC, other ingredients: ethanol, benzyl alcohol, deoxycholic acid, sodium hydroxide, sodium chloride, tocopherol and water; as liquid formulation. Artegodan GmbH

PC-55

55% PC, 30% PE, 3% PI, other PLs and triglycerides; as powdered compound. TwinLab [77]

PhosChol

80% soybean lecithin (Phosal 75A), 18% TG, other ingredients: anethole, tocopherol and paraben. Fatty acid composition: mainly linoleic acid; as liquid formulation.

Nutrasal LLC Co. [66]

Phospholipon®100

100% native soybean PC as a powdered compound.

Phospholipid GmbH

Phospholipon®90G

94-100% PC, LysoPC and tocopherol as powdered compound.

Phospholipid GmbH

Polyunsaturated PC

PC with 40-52% linoleic acid (n-6); as powdered compound.

Rhone-Poulenc Rorer GmbH [104]

Polyunsaturated Lecithin

60% PC, 30% PE, 6% phosphatidic acid,

3% monophosphatidylinositol, 3% LysoPC, 80% unsaturated fatty acids, 20% other fatty acids; as powdered compound.

American Lecithin Co. [102]

Soy Lecithin

31.7% PC, 20.8% PE, 3% PS, 17.5% PI, 2% phosphatidic acid, other ingredients unknown; as powdered compound. Herbarium, Brazil [99]

Soy Lecithin

40.4% PC, 35.1% PE, 24.5% PI. Fatty acid composition: 56.6% linoleate, 18.9% palmitate and other fatty acids; as powdered compound. Central Soya, Fort Wayne IN [53]

Soybean PC

96.5% PC as powdered compound.

Tsujiseiyu Matsuzaka Co. [29]

Soybean PC capsules

64% soybean PC, 30% soybean oil, other PLs, ethanol and water. Fatty acid composition: 64% linoleic acid, 12% palmitic acid, 12% oleic acid, 8% linolenic acid and 4% stearic acid; as liquid compound. Nutrition et Santé, Revel, France [54]

Sterpur P-30

30% PC, 21% PE and 8% PI, other ingredients unknown; as granulate. Stern-Lecithin & Soya GmbH [39, 112]

Dietary GPLs from milk

Lacprodan® PL-20

27% PC, 22% PE, 8% PI, 27% SPM, 12% PS and other ingredients; as powdered compound.

Arla Foods Ingredients [57]

Sphingomyelin

Extracted from bovine milk, unknown composition, as powdered compound. Avanti Polar Lipids, Inc. [34]

Dietary GPLs from marine origin

MPL (Neptune Krill oil, NKO™)

40% PL, 15% EPA and 9% DHA bound to PLs and neutral lipids, other ingredients: unsaturated FAs, saturated FAs, gelatine, glycerine, water; as liquid formulation packed in gelatine capsules. Jarrow Formulas Co.

MPL (Vitalipin®)

29% PC, 18% EPA and 26% DHA bound to PLs and neutral lipids, other ingredients: polyenes, monounsaturated FAs, saturated FAs, other fats; as liquid formulation packed in gelatine capsules. Membramed health food GmbH

Squid meal PC

PC contains 35.2% palmitic acid, 9.2% EPA, 43% DHA and 13% other FAs; as powdered compounds.

Nippon chemical Feed Co. Ltd. [30]

Dietary GPLs from animal origin

Bovine liver PI

100% PI as powdered compound. Avanti Polar Lipids, Inc. [61]

Brain cortex derived PS

Unknown composition. Fidia Farmaceutical S.p.A. [89]

Pig brain GPLs

PLs with aprox. 23% saturated fatty acids, 53% monounsaturated fatty acids and 24% n-6 fatty acids, as powdered compound. Laboratoires Ponroy, France [71]
The main characteristics of dietary GPL are:
◦ Soybean GPLs are mainly characterised by their high content of unsaturated FAs, namely linoleic acid (n-6 FA) bound to different types of PLs. The relative amounts of the PL classes PC, phosphatidylethanolamine (PE) and phosphatidylinositol (PI) are similar.
◦ Main PL class of egg yolk is PC. The FA distribution represents mainly unsaturated FAs, in particular oleic acid.
◦ Milk GPLs are not only characterised by having PC and PE as main PL classes, but also by containing high quantities of SPM. Bound FAs are both saturated and unsaturated.
◦ The main PL class of marine-derived GPLs is PC, predominantly binding the unsaturated eicosapentaenoic acid (EPA) and docosahexaenoic acid (DHA); both are n-3 FAs.
On the cellular level, the effects of membrane modifications caused by PLs are easy to detect by in vitro analysis. In contrast, membrane alterations are difficult to determine in vivo and especially in humans. Until now, the gastrointestinal metabolism of dietary GPLs as well as the mechanism of their incorporation into cellular membranes to achieve beneficial health effects has not been thoroughly explored. One main and obvious difficulty for these kinds of studies is that GPLs are normally found in almost all kinds of food products. The different types of GPLs can not be separated within each food product and at the same time other lipid components like triglycerides (TGs) are also included. This makes the determination of the metabolic pathway of each GPL difficult to analyse and thus their health effects can not be clearly defined.
This review article summarises the published health effects of dietary GPLs for different groups of illnesses. Most of these nutritional studies have focussed only on the health effects of GPLs, but, like mentioned before, the underlying physiological mechanisms have not been addressed. However, a few studies have shown that the FA composition of cellular membranes can be influenced by dietary GPLs. Around 100 articles dealing with the effects of dietary PLs were reviewed, including human clinical trials as well as in vitro and animal studies.
Conclusions and Discussion
This review provides an overview of the potential uses of GPLs as active ingredients for the treatment of different diseases. Many investigations revealed impressive health benefits of GPL supplementation without noticeable side effects.
It is impressive how GPLs, even though being "only" a food-component, are able to interact with the cellular membranes, changing their compositions (and probably their lipid microstructure and the lipid rafts) and thereby influencing a vast quantity of signalling processes and enzymatic activities. Since there have been many studies with remarkable effects performed during the past two decades, one could assume that GPLs are a "miracle drug". One explanation for the mentioned outstanding effects might be that our eating behaviour has changed during the last 1-2 centuries towards a suboptimal GPL-uptake, namely not enough GPLs and/or GPLs carrying the "wrong" FAs ("proinflammatory" n-6 FAs from i.e. meat and egg). The optimal n-3 to n-6 FAs ingestion is about 1:5. With the typical western diet the actual ratio is estimated to be 1:20, which is far below the recommendations. It has been shown that the supplementation with GPLs rich in n-3 FAs have the ability to compensate the "n-3 FA deficiency" in a more efficient way than other n-3 FA supplements (e.g. as TG or as free FAs) [100]. One could speculate that uptake of n-3 FA as GPLs are more efficiently incorporated into cellular membranes of different organs, thus affecting positively the membrane microstructure and its function. Thus, the benefits of GPLs reported in almost all studies could represent only the reestablishment of the normal GPL- and n-3 FAs requirements, so that GPLs as supplements could be very helpful in improving a great variety of health conditions. Since there are no side effects reported so far, GPLs have the potential to be consumed in a broader spectrum, that is, for many disorders at a time (as a regulatory mechanism by balancing the mentioned diet impairments regarding GPLs). Furthermore, a higher uptake of the right type of GPLs might also be recommended for healthy people as a prevention strategy to improve public health. This can be achieved by a regular uptake of GPLs as supplements and/or by preferential intake of food with sufficient and the "right" content of GPLs. Once more, it has become clear, that a balanced and healthy diet has positive effects in preventing and/or in stabilising/improving diseases, now increasing awareness about the potential importance of GPLs.
In contrast to the sometimes impressive effects of GPLs, the scientific explanation behind these effects is far from sufficient. The entire metabolism of GPLs has not yet been completely investigated and many questions remain to be answered. More research is needed to understand the role of GPLs after their ingestion and how they interact with the various processes of our complex metabolism. There are still many effects which remain to be discovered and results from larger clinical trials are eagerly awaited.
Authors' information
DK is a nutritional scientist and PhD student at the Tumor Biology Center Freiburg. LAT is a pharmacist, working at the Pharmacy of the University Hospital Heidelberg.
MS is a chemist, founder and owner of Lecithos Consulting Jesteburg.
UM is a chemist, working at the Tumor Biology Center Freiburg as head of the working group "Lipids and Liposomes". He also gives lectures at the University of Freiburg.
Endnotes
I The sn nomenclature is based on the stereospecific numbering of the carbon atoms of a glycerol molecule. It is used when a molecule has a chiral center (a carbon atom which has no symmetry), in this case, the glycerol backbone of a PL.
II 1 g of TwinLab PC-55 supplies 0,15 g of choline.
III Plasmalogens are ether lipids composed of glycerol, a vinyl residue, a FA and a PL.
IV Allostatic load is a hightened neural response as a consequence to repeated stress.
V ConA was used for activating lymphocytes
VI The PEMT enzyme is in charge of regenerating hepatic PC, which is normally decreased during alcoholic liver damage
List of abbreviations
AA:

arachidonic acid
ARCD:

age related cognitive decline
ATP:

adenosine triphosphate
COX:

cyclooxygenase
CRP:

C-reactive protein
DGLA:

dihomo-gamma-linolenic acid
DHA:

docosahexaenoic acid
DLPC:

dilinoleoyl- phosphatidylcholine
DPPC:

di-palmitoyl-phosphatidylcholine
EPA:

eicosapentaenoic acid
FA:

fatty acid
FFA:

free fatty acid
GI:

gastrointestinal
GPL:

glycerophospholipids
HDL:

high density lipoprotein
HMG-CoA:

hydroxy-methylglutaryl-coenzyme A
iNOS:

nitric oxide synthase
IFN:

interferon alpha
LCAT:

lecithin-cholesterol-acyl-tranferase
LDL:

low density lipoprotein
LPS:

lipopolysaccharide
MAPK:

mitogen-activated protein kinases
MPL:

Marine phospholipids
NaBt:

sodium butyrate
NFκB:

nuclear factor kappa-light-chain-enhancer of activated B cells
NSAIDs:

non steroidal anti-inflammatory drugs
PC:

phosphatidylcholine
PE:

phosphatidylethanolamine
PEMT:

phosphatidylethanolamine methyltransferase
PET:

positron emission tomography
PGE:

prostaglandin E
PI:

phosphatidylinositol
PL:

phospholipid
PLC:

phospholipase C
PMNL:

polymorphonuclear leukocyte
PMS:

premenstrual syndrome
PPC:

polyenylphosphatidylcholine
pPLA2:

pancreatic phospholipase A2
PS:

phosphatidylserine
POPC:

palmitoyl-oleoyl-phosphatidylcholine
PUFA:

polyunsaturated fatty acid
RBC:

red blood cells
SPM:

sphingomyelin
TG:

triglyceride
TMAO:

trimethylamine N-oxide
TNFα:

tumor necrosis factor-alpha
VLDL:

very low density lipoprotein.
Declarations
Acknowledgements
Thanks to all of our colleagues for their support during our work and to the Federal Ministry of Education and Research (BMBF, Project Number: 0315477B) for financial support.
Authors' Affiliations
(1)
Dept. of Clinical Research, Tumor Biology Center, Freiburg, Germany
(2)
University Hospital Heidelberg, Pharmacy, Heidelberg, Germany
(3)
Lecithos Consulting, Jesteburg, Germany
Copyright
© Küllenberg et al; licensee BioMed Central Ltd. 2012
This article is published under license to BioMed Central Ltd. This is an Open Access article distributed under the terms of the Creative Commons Attribution License (http://creativecommons.org/licenses/by/2.0), which permits unrestricted use, distribution, and reproduction in any medium, provided the original work is properly cited.